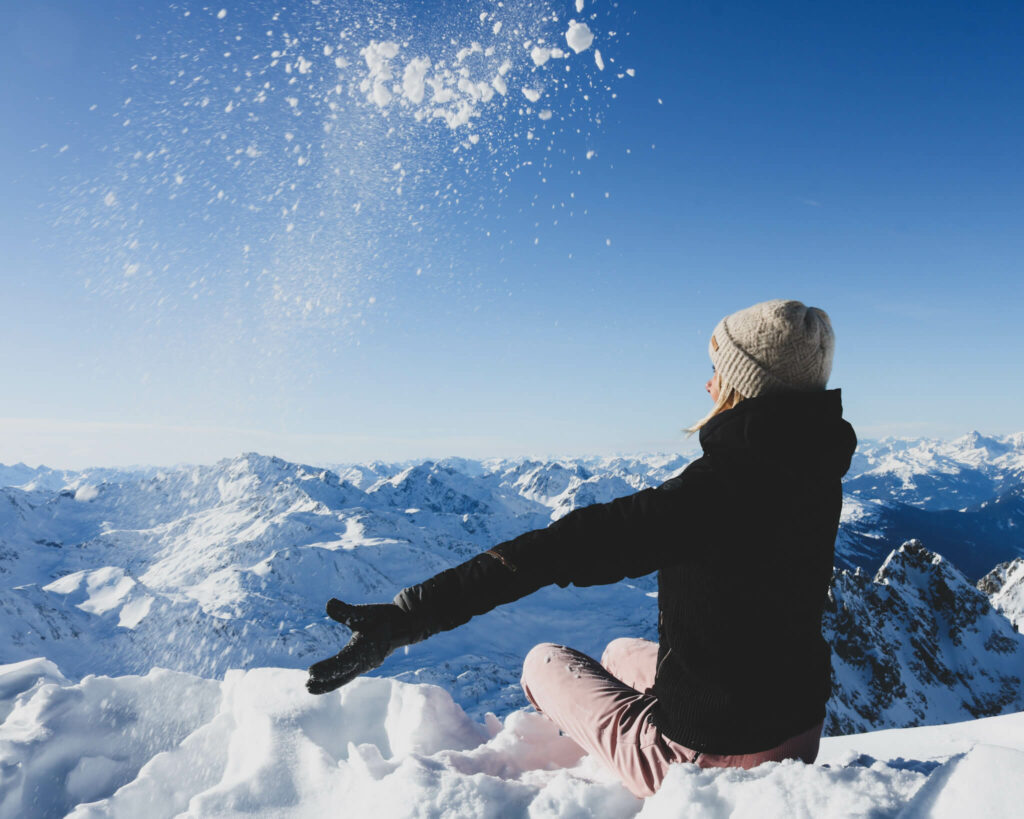 I was lucky enough to visit one of the best skiing destinations in the world : St Anton am Arlberg in Tirol, Austria. Over the last few years this village in the mountains has attracted more and more winter sports enthusiasts from all over the world. With its very special charm and unmistakable beauty of nature St Anton is everything and more I could have dreamt of for my first ski vacation in over ten years! This winter paradise offers 305 kilometers of marked pistes, 200 kilometers of freeride terrain and 88 lift and cable car systems and provides snow-sure conditions from December till April! But even for the non-skiers, this region has a lot to offer : winter hiking, climbing, wellness and world-class après-ski!
When I was a child, I used to go on a ski holiday every year. I learnt skiing when I was three, entered my first (and last :D) competition as a five-year old and I was hooked ever since. At 16 I went to the mountains three times a year to practice my favorite sport. Growing up I somehow lost track of the activities I loved the most. But being an outdoor lover, and especially because of my visit to the Zugspitse last year, whilst being surrounded by skiers, I felt the urge to go skiing again. So I did. In St Anton am Arlberg, the birthplace of Alpine Skiing. And I'm about to tell you why you should book a trip to this amazing village in the mountains too.
How to get to St Anton?
St Anton is conveniently accessible :
By train : Good news for all fellow Belgians : A new night train (operable since the 19th of January 2020) takes you straight from Brussels to Innsbrück! From there it's only a one hour train ride to St. Anton.
By plane : The closest airport to St Anton is Innsbrück. Tui Fly takes you directly from Antwerp to Innsbrück. If your country does not fly to Innsbrück, other close airports are Memmingen, Zürich, Friedrichshafen, München or Salzburg.
By car : From Ghent, it takes about 8 hours to get to St Anton. (traffic jams not included). Keep in mind that you need to buy a vignette to enter Austria. You can buy it at the border or at petrol stations.
For more info about how to get to St. Anton from your country, you can check the St. Anton website.
Why choose St Anton am Arlberg as your ski holiday destination?
Endless skiing possibilities
First of all, Arlberg is the largest interconnected ski area in Austria and one of the top five largest skiing regions in the world! So whether you are a beginner or an experienced skier, you can be sure you'll enjoy yourself here! In total, there's more than 305km to explore! (check this interactive map to find out more). Not lacking any off-piste possibilities either : the region offers 200km of high Alpine deep powder runs and 40km of cross-country ski trails.
Needless to say that this ski resort is gaining popularity and already attracts people from over 50 nations.
Since the 2019/2020 season a brand new state-of-the-art 10-seater gondola lift "Schindlergratbahn Cable Car" has been built. This lift, that has a capacity of 2800 passengers per hour, increased both the piste diversity and the comfort for the skiers.
World-class après-ski
As much as I know you love skiing, I'm sure you are pretty interested in the après-ski possibilities too. It is, after all, a big part of a ski-trip! St Anton has got you covered! Your après-ski experience starts on the slopes : whether you go the the infamous Mooserwirt or the Krazy Kanguruh, fun is guaranteed! I had a taste of the ambiance in the Mooserwirt and I must say, although I'm normally not a fan of commercial music; the party mood was contagious! (but maybe the HUGE beers had something to do with it too :D) One big happy family singing together on the tunes of 'Leef – André Hazes' .. how can one not have fun?! We even enjoyed a little sit-down. 😀
After you can ski down and continue the party in the village (Bar Cuba, Murmell, …) but be careful as skiing down in the dark whilst having a few schnaps might not be for everyone!
Excellent ski conditions
I stayed in St Anton Am Arlberg for four days. The first day it was clouded and we got a bit of fresh snowfall. This gave us perfect conditions for our first ski day! The three following days consisted of bright blue skies with no cloud in sight. But this was not just me being lucky. Historically there is an excellent amount of snowfall in St Anton (around 9 meters during a classic winter).
Where to stay
I stayed at the Mooser Hotel and it was a dream come true. This luxury hotel is located on the slopes and treats its guests with a hospitality never seen before elsewhere.
Imagine this : waking up in your hotel bed with the most glorious mountain view. After an enormously extensive and healthy breakfast you can start your ski day right at the hotel door. After an intense ski day you can relax in the beautiful wellness area of the hotel. The heated outdoor pool is surrounded by pinetrees and is a real delight for the eye. Once you are fully loaded again, you get dressed and go nextdoor, cause the best après-ski bar is connected to the hotel! I mean, what more could you possibly ask for?
But it doesn't even stop here. For me, it were the details that made this hotel really stand out. To name a few examples : there's a climate box in every room that not only purifies the room air, but also enriches it with a fragrance of Alpine Swiss stone pine forests. The shower is a "rain forest" shower with amazing water pressure. There's a yoga mat in the cupboard for the ones practicing yoga. And last but not least, the food in the restaurant (which by the way, offers you amazing views on the slopes) is delicious!
Activities for non-skiers
But even if you are not a skier the possibilities in St Anton are endless : winter hiking, toboggan runs, Arlberg Wellcom (Wellness & communication center that offers : sauna – fitness – swimming – ice skating), snow shoe walking, sleigh riding or you could even try some indoor sports at the Arl.Rock.
Winter hiking
Since we only had limited time in St Anton we chose to ski most of the time. But I am a big fan of winter hiking : the crunch of snow under your feet, the sun on your face and the white beauty all around you! So we decided to go on a little hike to the Verwall Valley. It's a relatively short hike (10km) that offers you scenic views of the snow filled mountains around you. And to top it off you can drink a hot chocolate in the new Wagner Hut!
If you are not a skier, and thus, have more time to hike, there are plenty more winter walking trails to choose from (there are 80km of winter hiking paths in the area!). One day I will go back to hike 'em all!
TIPS WHEN TRAVELING TO ST ANTON
To end this blogpost I will share with you some last tips, that hopefully will make your trip to St. Anton even more enjoyable!
Free buses : If you are staying on the slopes and don't want to walk down to the village, there are free buses that take you there! So there's actually really no need to have a car when being in St Anton.
Ski Arlberg App : A really helpful app that you can download on your phone to help you locate yourself while skiing. The app also gives you information about skipasses, the snow height and the weather.
Where to eat : If you are staying in the Mooser Hotel, you should eat there every night, because the food is excellent! But if you want to go and eat in the village Restaurant Dorfstuben is a good choice!
Want to learn to ski? : If you want to learn to ski or improve your style with a private instructor, I can definitely recommend the St. Anton Classic Skischule, the skischool of choice for local, highly trained and certified ski instructors and mountain guides.
St. Anton is a ski destination that will please families with children as well as advanced, more adventurous skiers looking for off piste possibilities. And even for the non-skiers, or the ones simply searching for the bést après-ski, St. Anton will satisfy you!