As an outdoor lover, I'm a big fan of mini trips not far from home, that make me feel close to nature. Spending the night in a treehouse, a cabin, a lake house, or a pod in an exquisite National Park therefore sounds super appealing to me. Buitenplaats Beekhuizen is a 'glamping-only' holiday park in the Netherlands. It is located in the gorgeous National Park Veluwezoom and consists of several pods or lodge tents to spend the night in. I visited this lovely place in December 2019, together with Angelique from Our Never Ending Wanderlust.
The accomodation
In Buitenplaats Beekhuizen, there are many different lodging possibilities. You can check them all on their website. We chose to stay in the Superior Pod. It isn't very big but that is just the charm of it. You have everything you need : a kitchenette (fridge and microwave), a dinner table, two beds and your own shower and toilet. And to top it all of there is a fire bowl in front of your pod, to make the evenings extra cozy.
Even though you can reheat your own meal in the pod, there's no need to bring your own food if you don't want to. There's a restaurant called Woodz that offers excellent food in the park. (take away possibilities during Covid) I had a veggie burger and it was amazing!
And even for breakfast, they got you covered : you can order a luxury breakfast that will be delivered at your pod.
Hiking in National park veluwezoom
Veluwezoom is a national park with a wide variety of nature. In one day you will find forests with high trees, hills, sand dunes and heather fields with gorgeous views. Popular activities are hiking, mountain biking and even horse riding. Angelique and I are avid hikers, so I will list the hikes we did that weekend down below.
Day 1 : Herikhuizenroute
On the first day we chose to hike the 'Herikhuizenroute'. A 9km hike, indicated with yellow signs, that starts at Buitenplaats Beekhuizen. This magical walk takes you through forests and meadows. Maybe you'll even be suprised by an icelandic horse that will join you on your walk for a little while
I personally knew 'the Veluwezoom' from one sight : the purple flowers that bloom all over the heather. These flowers only bloom during a short period of time : from mid August till mid September. Since I visited this park in winter I didn't get to see them, but the hike did lead us to the viewpoint!
The viewpoint, named the 'Posbank' gives you an amazing view over the 'Herikhuizerveld'. With clear weather you can even see as far as Germany.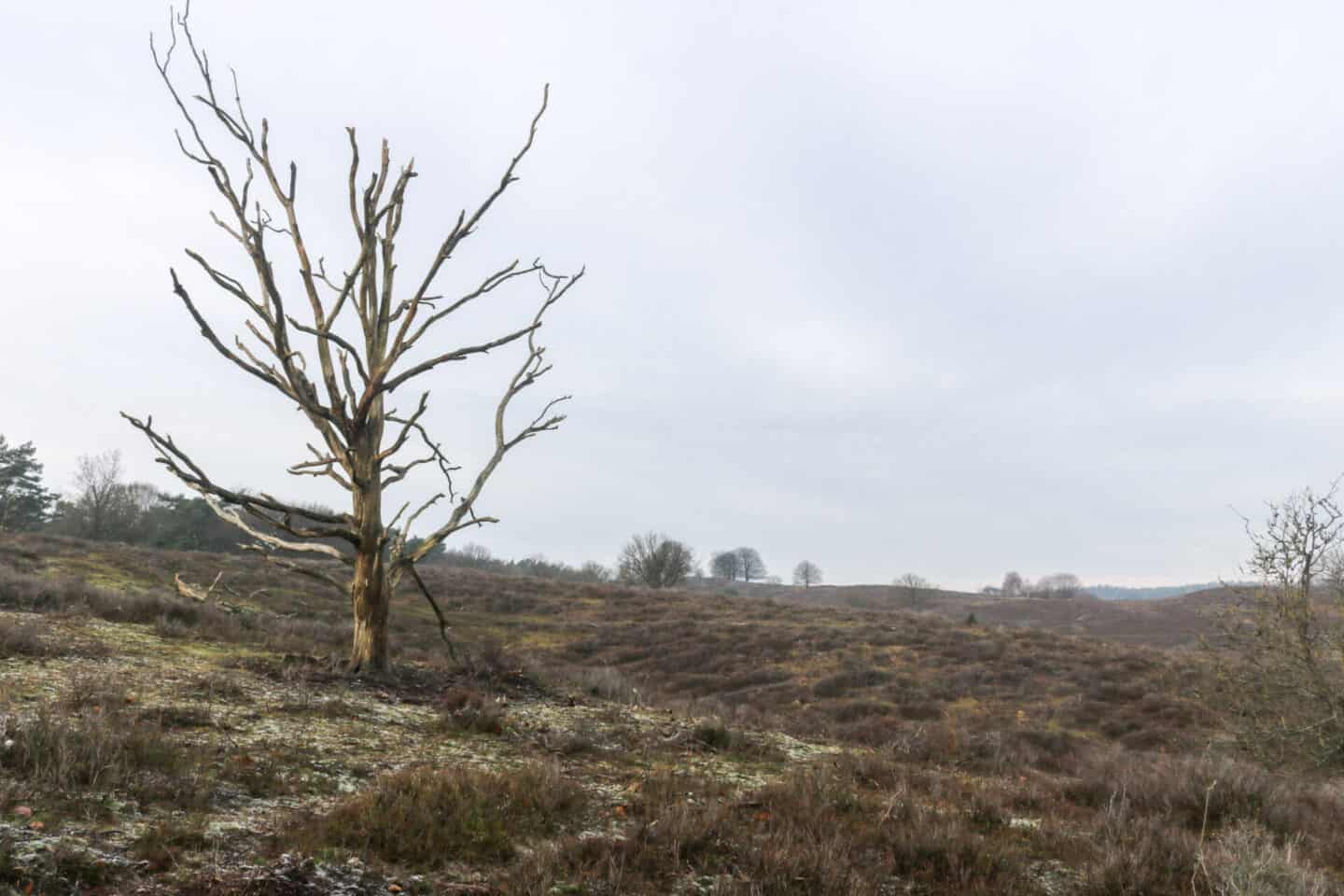 One day I will go back there to see the purple flowers bloom during sunrise. Must be truly spectacular!
Day 2 : Carolinahoeveroute
After a delicious meal in the restaurant and a restful night in our pod we were ready for another hike on day 2! We drove our car to the parking lot 'Lappendeken'. From there we walked a 5km hike, named Carolinahoeveroute. The hike is mainly flat and partly on paved roads, partly through forests.
I always had a strange curiosity towards the 'Scottish Highland' cows and you will most likely see them during this hike. Gorgeous creatures!
After a short while you will see the 'Carolinahoeve'. At the moment the place is being renovated, but normally you can relax and drink a delicous coffee inside or on the terrace.
Then continue the hike, that is a loop, and be sure to keep your eyes open for other (wild) animals.
I have always loved to discover beautiful nature close to home, and this place surely didn't disappoint. I hoped this blogpost showed you that you don't always have to travel far to find beauty. Special thanks to Angelique for joining me on this trip! (and for taking some of the incredible pictures in this post)