As some of you know, my sister and her husband own a Bed & Breakfast in Dalen in Norway. Dalen is a little town situated in a valley, beside a lake and surrounded by steep mountains! Ever since my first visit to Dalen in Norway, I have always loved to go back there to enjoy life at a slower pace in this idyllic village.
Where exactly is Dalen in Norway and how can you get there?
Dalen is situated in the south of Norway and is the westernmost endpoint of the Telemark Canal.
To get there you first need to fly to Oslo. From Oslo, you have a few options :
Rent a car and drive to Dalen. This will take you about 3,5 hours and is the easiest and fastest way to get there.
Take a train to Bø. From Bø you take the Haukeliekspressen or Telemarkekspressen to Åmot. In Åmot switch to the local bus to Dalen. Busses in Norway are really comfortable and most of the time there is wifi available.
Take two busses : Haukeliekspressen and Telemarkespressen. Change busses in Åmot.
Where to stay in Dalen?
Obviously, I will tell you to stay at my sister's Bed and Breakfast. But even if I was objective, the B&B would still be my choice. It's the best value for your money, with a perfect location for all your activities. On top of that the owners will do everything in their power to help you make the most out of your holiday.
Dalen hotel also deserves a mention though. This luxury hotel, built in 1894 is very authentic and a delight to the eye. Unfortunately, it is really expensive to stay there. But you can visit the hotel, have a drink in the piano bar and pretend to go way back in time for a while.
Best things to do in Dalen, Norway
When visiting Dalen you get the complete 'Norway Experience' : endless hiking in the mountains, enjoying peace and quiet at the Bandak Lake whilst breathing in the freshest air and drinking water straight from the rivers. Although Dalen is a small town, there are lots of activities to be done and I will list the ones I like the best down here for you!
Hike to Rui : going back in time with a spectacular view
This trail starts right in the center of Dalen from where you can already see the stone staircase. Exactly 810 steps await you if you want to make it to Rui! The hike definitely is a challenge, but there are a lot of stops to sit and rest and enjoy the views! Once you get to the top, you can enjoy a spectacular view over the Telemark Canal and the mountains.
The little farm in the pictures was inhabited by two sisters (the Rui sisters). They lived there from birth till old age and even though society down in the village was evolving, they chose to live a simple life without modern aids.
All the photos in this blogpost were shot on the Fujifilm X-T30, that I tested on my trip to Norway!
If you have any energy left you can continue your hike to the Eidsborg Stave Church.
Visit Eidsborg Stave Church
The Eidsborg Stave Church is one of the best preserved Stave Churches of Norway and was built between 1250 en 1270. It has been restored from 2005 to 2008 and is still in use! In the summer months there are guided tours to the church several times a day. I adored this church because of its idyllic location, definitely worth a visit!
Hike Lårdastigen : A fantastic walk following the mountain ridge
This is without a doubt the hike that made me fall completely in love with hiking. I hiked Lårdalstigen for the first time three years ago, completely on my own. It's a 14km walk (one way) so you'll need an entire day to do complete it. I can still remember the jaw-dropping views I was rewarded with. And the quote 'the best view comes after the hardest climb' is in place here cause the hike is quite challenging.
This year, I hiked a small piece of the trail with my mother, niece and nephew. We started the hike and turned around at a certain point, and still got some amazing views from the edge of the mountain ridge.
Starting point hike : Top of Eidsborgberget. You can hike from Dalen to Lardal or the other way around. In summer you can take a one way ferry back, but be sure to book it in advance.
Visit the Raven Gorge (Ravnejuv)
Only a 16 minute drive from Dalen, you can find another majestic nature phenomenon. Ravnejuv is a 350m high gorge with a steep drop of 350m! Down below you can see the river Tokkeåi and the views are really incredible. If you throw a bank note or a handkerchief down over the edge, it will come right back at you because of the rising air stream from below. If you try this, please be careful not to stand too close to the edge, and pick up your trash before you leave!
Walk over 'the suspension bridge across Hell'
First of all, let me explain the name of this bridge. The waterfall you see on this hike used to cause a big challenge to the log drivers in the nineteenth century, so they renamed the waterfall to 'Hell's waterfall'. Later, the suspension bridge was built over, well, 'Hell' :D.
This hike is relatively easy, and lasts for about 3 hours (round trip).
Starting point hike : Tokke Kulturhus. (on your right just after the center of Dalen) Then you need to cross the river twice and after 2km you'll see the Suspension Bridge.
Kayak or canoe on the Bandak Lake
You can't visit Norway and not spend some time in a boat at least once! If you want to experience total serenity and get lost in the moment, kayaking is an activity for you. It's the ultimate way to enjoy the quietness of nature and discover some unique places you wouldn't normally spot. Kayaks and canoes can be rented at Dalen Bed and Breakfast.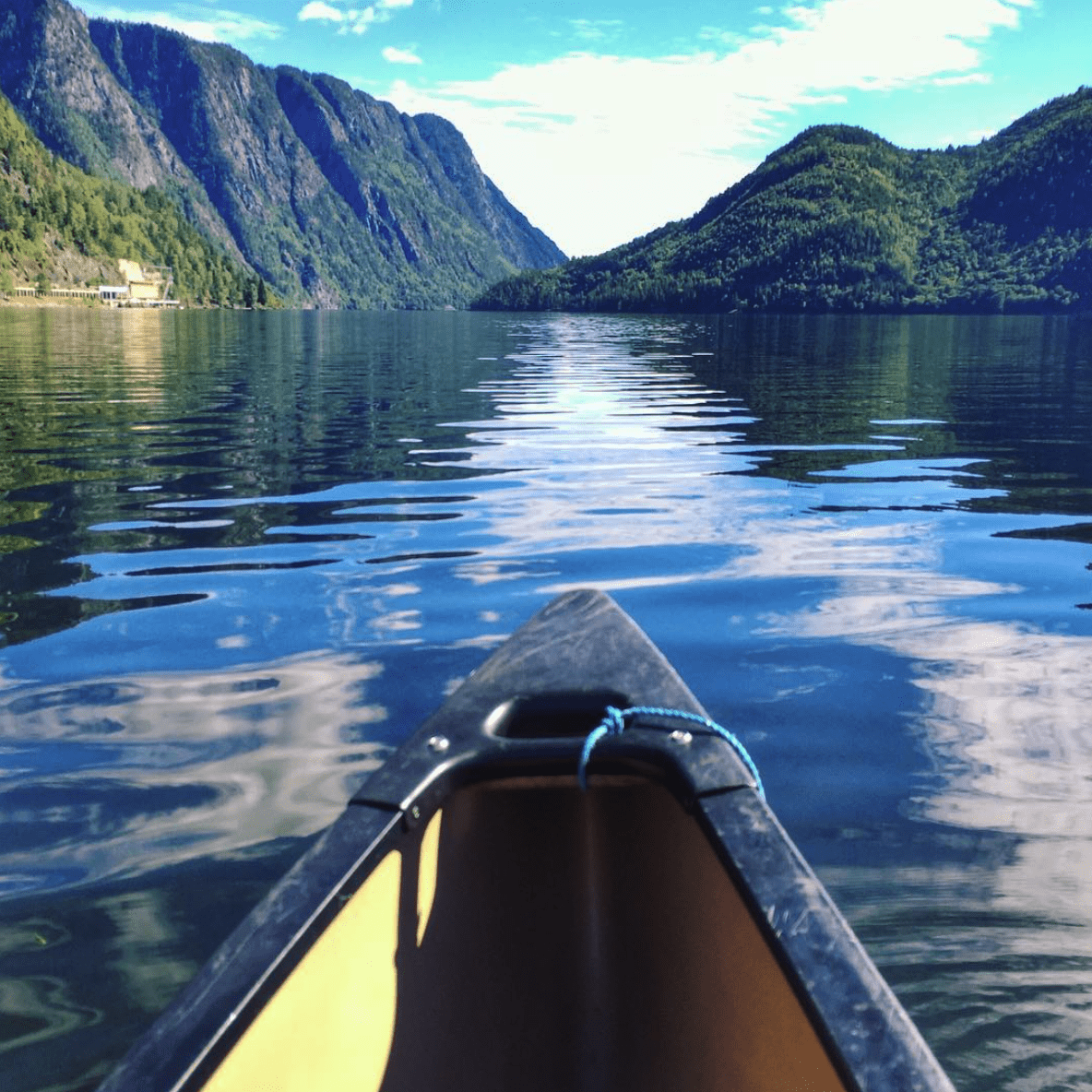 You can choose to kayak/canoe for a short period of time. For the more adventurous people : you can also kayak the whole Telemark Canal in 5 days and take the canal boat back.
Relax at Soria Moria, the most spectacular sauna I have ever seen!
Since 2018, Dalen is an eye-catching artwork richer : the Soria Moria sauna. The sauna is one of the six projects of the 'Tales of the Waterway', an art project for the Telemark Canal. The project wants people to rediscover the Telemark Region and view the unique landscape in a different way. The sauna can be rented for 2 hours and has place for 15 people.
Can you imagine chilling in a hot sauna whilst taking in the breathtaking view of the Bandak lake surrounded by mountains? Jump in the lake after to cool off and I'll swear, you'll feel like a completely different person!
Swim in Lake Bandak
In summer, there's another activity not to be missed! Swim in the lake! Nothing compares to cooling off in the water, surrounded by green mountains. It might be a bit chilly at first, but just keep going, you'll be surprised how fast your body will adjust! If you're still not convinced, there's also a little beach where you can lay down and just soak in some sun!
Last but not least : the most popular activity in Norway : go on a moose safari!
Just before nightfall you depart on a moose-spotting adventure! When you leave for the moose safari and follow the 40km route the owners of Dalen Bed & Breakfast will give you, there's a 99% chance to actually see one. So get ready to encounter the largest land animal in Europe! I remember the first time I laid eyes on this magnificent creature; suddenly the moose appeared in the middle of the road.
I hope by now you have a clear view of all the perks this magical place has to offer and why I love to revisit this place time and time again. If you plan on visiting, or any other place on my blog that is, and you have any questions, don't hesitate to ask me. I'm happy to help you with your travel planning 🙂
All the photos in this blogpost were shot on the Fujifilm X-T30, that I tested on my trip to Norway!