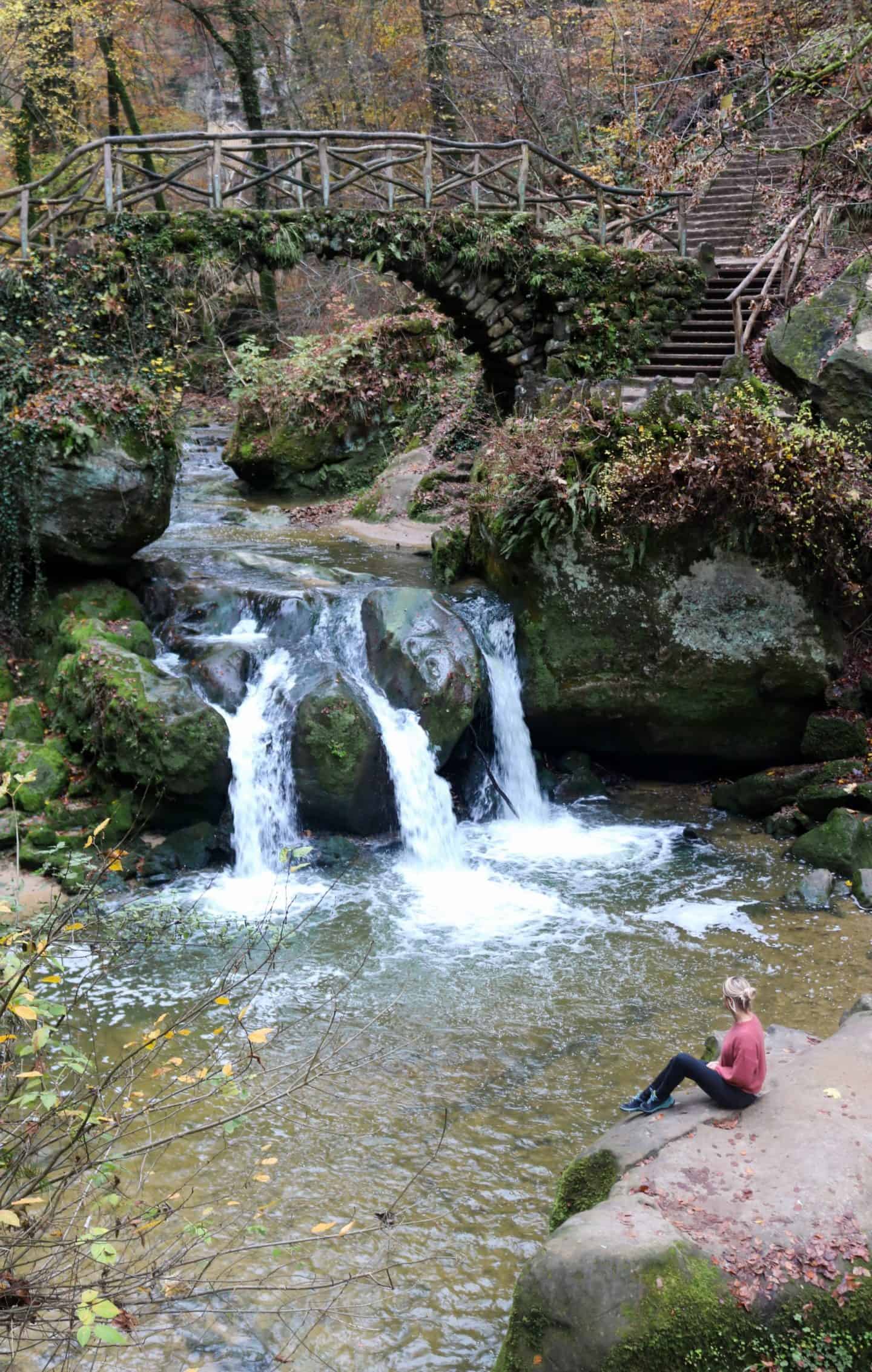 The Müllerthal region is one of the most magnificent regions in Luxembourg and is the perfect destination for nature seekers and hiking enthusiasts! Because of the spectacular landscape filled with rocky formations, forests, caves and streams, Müllerthal is often referred to as 'Little Switzerland'. After having spent three days in this hiking paradise, I can guarantee you that this visually pleasing region will surprise you in every possible way.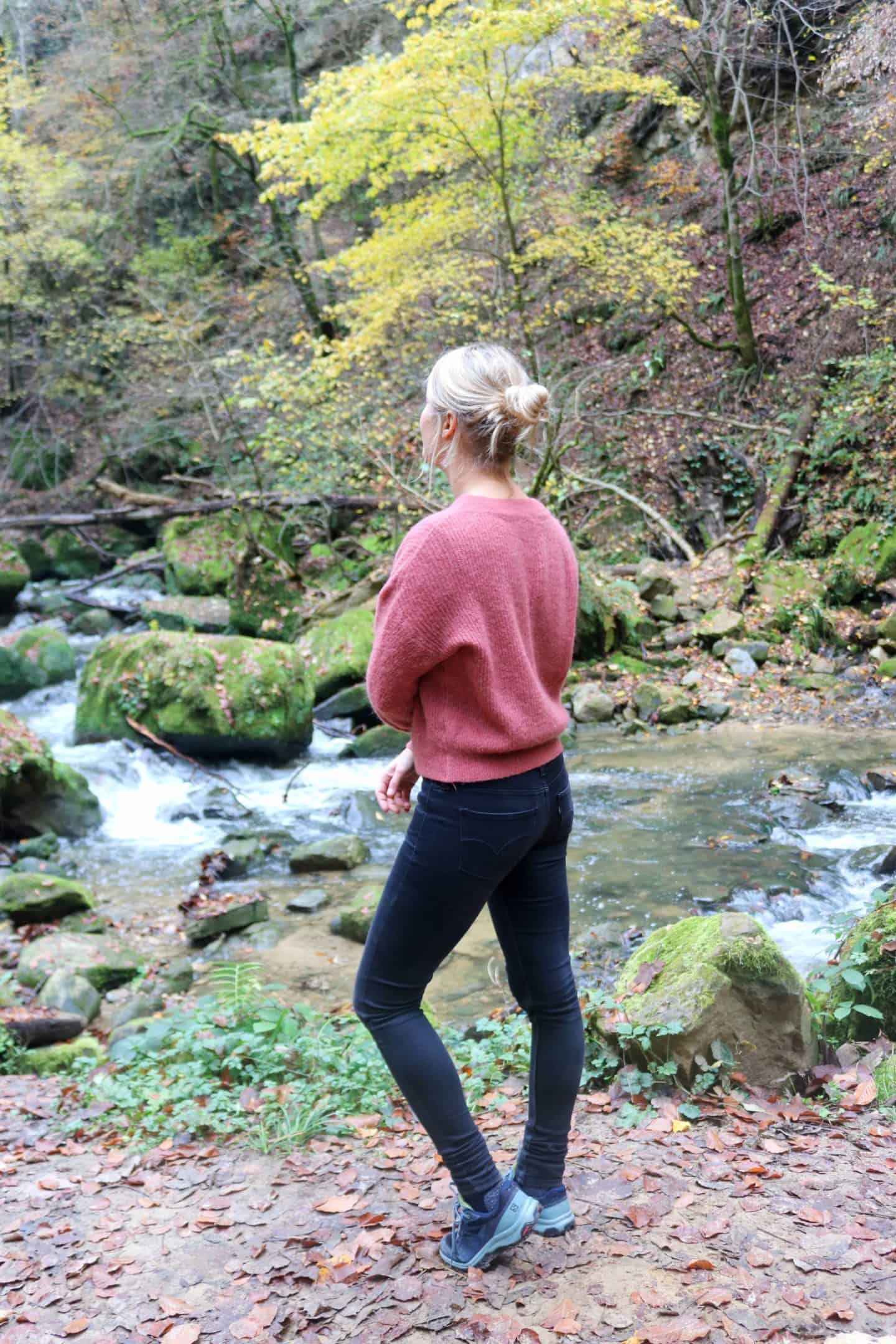 The Müllerthal Trail
Little Switzerland is mostly known for its famous Müllerthal Trail, a trail that feels nothing short of magic. This 122 km long trail is divided into three loops of 38km, 37km and 37km. Each hike offers you a different experience.
Müllerthal trail 1 takes you to gorgeous meadows, rocks and forests and is considered the easiest route. (Starting point : Echternach)
Müllerthal trail 2 offers the most spectacular rock formations. Including a lot of uphill hiking, this trail is the most difficult one. (this route also starts in Echternach)
Müllerthal trail 3 features some romantic castles besides rock formations and forests. (This trail starts in Beaufort.)
All trails and shorter routes are very well marked, so it is not necessary to use an app (or even a map). Just take in the scenery and enjoy the mind-blowing landscape!
Our original plan was to hike an entire trail on day two. But since we visited in Fall, and the sun goes down pretty early, we soon realized it is impossible to do an entire trail in one day. If you visit in Summer, I would say go for it, but be sure to leave on time. I enjoy hiking more when I get the time to fully take in my environment and not having to rush through it. So that's why we chose to hike a few smaller routes instead. I will share the best hikes we did with you in the section below.
Where to stay?
We stayed at Auberge Rustique in Beaufort, which is a good base to start your hikes from! The hotel is simple but offers you everything you need. For us it was important to stay somewhere near the start of a trail. Other good options in that regard are staying in Echternach or Müllerthal. Beaufort is a really small town so if you want some action in the evening or at night time, it might be better to stay in Echternach.
Where to eat?
Every trip I want to indulge in the local cuisine by visiting a decent restaurant. An experience I would like to share with you is the dinner we had in Restaurant Grimougi in Echternach. The restaurant itself is nothing special but the service is impeccable and they treat every guest as if you were the king and the queen. But most importantly : the food is heavenly! Highly recommend!
Hiking routes
As mentioned before we did not hike an entire trail in a day. But the hikes that I will describe below give you a good idea of what the Müllerthal trail has got to offer in a weekend, and are perfect if you, like us, don't want to have to rush by trying to hike more than 30 kms in a day. Needless to say that this is not an exhaustive list, but it's a good start.
Hiking Route W6
Starting point : Touristcenter Heringer Millen, Mullerthal – Duration : About 2 hours –Difficulty level : Intermediate
The first hike in this Müllerthal blog post is the one that stayed with me the most. Most likely because it includes the wonderful and very picturesque Schiessentümpel Waterfall, one of the most famous landmarks in Luxembourg. It's safe to say that this waterfall is unlike any other waterfall you have ever seen before. Although it doesn't stand out in its greatness, this waterfall makes up for this by its dazzling beauty and its lush surroundings. The stone bridge that crosses over it makes this a sight you'll not soon forget! Take your time to enjoy this stunningly beautiful place.
The trail continues following the river the Black Ernz, and after that the trail slowly winds through cool forests. The last part of the trail takes you to gorgeous meadows and even to a golf court, so if you want to try something new, you're in luck!
Hiking Route E1
Starting point : Echternach Basilica – Duration : About 4 hours –Difficulty level : Advanced
The first part of the hike is quite challenging : from the basilica you need to climb all the way up. But this doesn't last the entire hike, so please don't give up! The steep part lasts for about half an hour and is well worth the effort because it takes you to the viewpoint Trooskneppchen. Unfortunately, we were visiting on a foggy day so no pretty view over Echternach city for us that day.
Wollefsschlucht
Not long after that you reach the impressive Wollefsschlucht, a more than 50m high rock formation through which the hiking trail runs. Even though I hike in the mountains regularly, I was truly amazed by the beauty of this place. The name 'Wollefsschlucht' (= the Wolves' Canyon) ensures the place's mysticalness : wolves used to find shelter here and who knows, maybe they might again in the future?
Perenkop
The hike then leads you to the 'Perenkop' : a 40m high rock that overhangs the road. Normally you can get to the top by climbing a ladder that is situated in between the rocks, but it is closed for the moment. Luckily there was another way around to get to the summit of the Perenkop.
Hohllay Cave
Continue the hike and you'll soon discover 'Hohllay Cave'. This is a place that breathes history, so be sure to look for the marks in the cave wall that refer to past mining activity. From the Middle Ages to the 19th century this low-ceilinged cave was used to carve out circular millstones.
The hike E1, that is a loop, then slowly returns to the town of Echternach, but you do pass some spectacular rock formations along the way so be sure not to miss any of it!
Hiking Route B2
Starting point : Martbusch Leisure Centre Berdorf – Duration : About 2 hours –Difficulty level : Moderate
This hike wanders its way through magnificent woods and is also suited for families with children. While I walked in these gorgeous forests I found surprises around every corner : it's a true labyrinth of awe-inspiring natural phenomena. The number of gorges is endless, you can climb up hundreds of steps. The highlight for me was the climb of an iron ladder that can be found inside a gorge. Climbing in complete darkness, not knowing what will come next, I loved it! Remember to take a headlamp with you though! A bit further you can climb up to 'Adlerhorst'. This is supposed to be a viewpoint with a very nice view, but unfortunately all we got was mist. 😀
The last part of the hike leads you back to the starting point and takes you through flat meadows.
We combined hike E1 and B2 in one day, so if you are looking for a full day of hiking with lots of different sights, look no further!
I hope this list will help you get outside more. I was in Luxembourg for a very limited time so as mentioned before, this is not an exhaustive list. For more beautiful hiking trails you can always check out the Region Müllerthal website. Happy trails!