While winter is almost here in Belgium, I'm thinking back on all the amazing travels I did this year. My solo trip to Mexico was surely one of the trips I will always remember and also a trip that affected me deeply, partly because of personal reasons but also because of the beauty of Mexico, and the hospitality of the Mexican people. Since I can't describe my three-weeks-journey in one blog post, I will make several ones. And I'm starting with the place I loved the most : Tulum! So if you are looking for a Tulum travel guide, keep reading!
Tulum is divided into two major parts : the town center (referred to by locals as 'pueblo') and the hotel beach zone ('playa'). You can find the more expensive resorts on Tulum beach : a long strip of land with the best beach access. I stayed in town as well as on the beach strip and each location has its advantages. But you'll definitely spend more money on the beach strip! You'll find good food and shops on both locations and you can easily go from town to the beach and back by bike or by collectivo.
Top experiences in Tulum
Glamping
Every solo trip, I want to spoil myself (at least :p) once, and stay in a fancy hotel/resort/villa/… Someone I know told me I just had to go glamping in Tulum. And so I did! My first glamping experience 😀 and definitely not my last. I stayed at Nativus Tulum . And when I say it's heaven on earth I'm not exaggerating. You sleep in a luxurious camping tent with all modern comfort. My favorite 'room' was the jungle bathroom! Dreaming of showering under the open sky, surrounded by palmtrees, you know where to go!!
And that's not even all. The camping site has a private dock and a natural cenote, where you can kayak, paddle board, swim or dive to see the fish. Cenotes are typical for Yucatan, I will tell you more about them later in this post!
As I said, Nativus is situated in the hotel zone, so you just cross the street to lay eyes on the magnificent white sand beaches of Tulum. Nativus has a partnership with Beach Club/Hotel Rosa del Viento, so you can use the lounge chairs for free!
Cenote hopping
One of the best and most unique things to be found in Mexico, and in particular in Yucatan, are the cenotes! They are natural sinkholes and are the results of the collapse of limestone that exposes the crystal blue water underneath. A lot of locals just go there after work to chill and watch the sunset, and I could understand why. I visited three of them, since my time in Tulum was limited but you could easily spend weeks to discover all of them!
Cenote near Nativus Tulum
This fairly large cenote is a real hidden gem, so guests of Nativus are really lucky to have access to it. It's rarely crowded and it's perfect to just chill all day and relax on the two-story deck. As I mentioned above you can also kayak or paddle board here, so you can easily spend a whole day at this cenote.
Cenote Cape-Ha
You might be a bit surprised about the location of this cenote, but it's right in the middle of the 'trendy' beach strip. To get to the cenote you have to walk on some shaky boards, but once you get there, you will be rewarded with the sight of one of the most beautiful and large cenotes.
Cenote Calavera
This is a lesser known, and often overlooked cenote, but it was my favorite one! You can enter the cenote via a staircase, but the 'right' way to go in is obviously to just jump in! Funny thing is, it is also called temple of doom 😀 because of three circular openings that look a bit like a skull from above. This cenote is also great for diving.
Visit the Mayan Ruins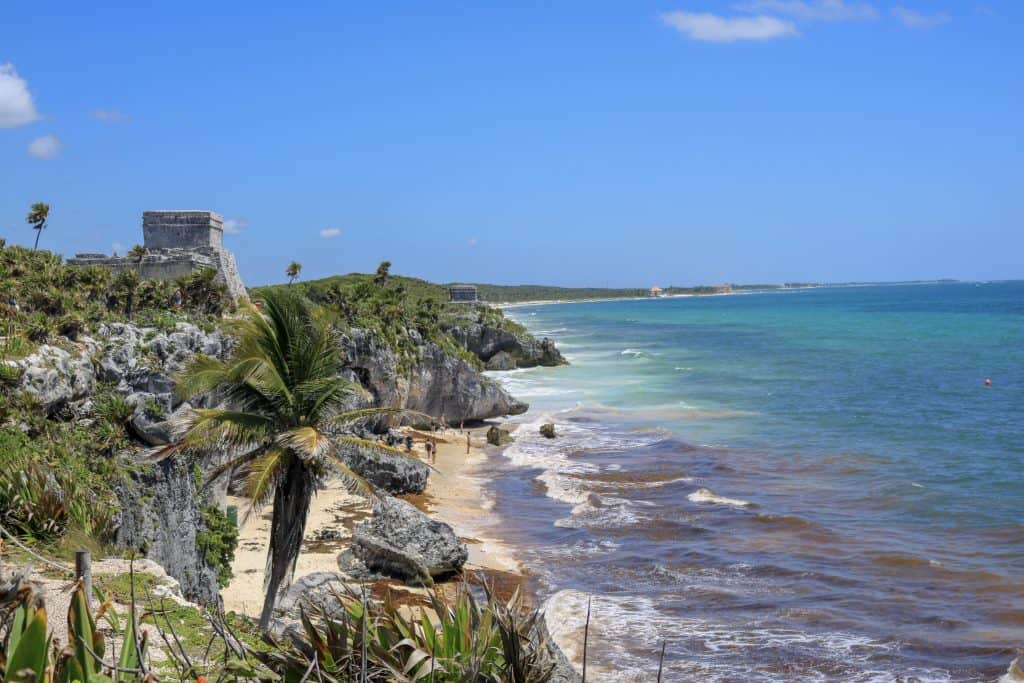 In Tulum you can also travel back in time and be swept away by the mysterious Maya ruins. These ruins differ from all the others because they are very well preserved ànd Tulum was the only Mayan town built on a coast. Tulum's original name was 'Zama', literally : dawn, because from there you can see the sunrise so well! It used to be a trading town before the Spanish came and destroyed it. What is left are the incredible ruins..
I'll just let the pictures speak for themselves :
A few tips when you want to visit the ruins :
Go eather early or in the late afternoon. The ruins are gaining popularity every year, so I'd suggest you try to avoid the crowds to really feel the place
Be sure to bring enough pesos. (a ticket costs about 65 pesos) You will find ATM's at the site, but they'll only let you withdraw American Dollars and you can be sure they will rip you off
Don't be surprised when you enter the site. 😀 it looks a bit like an amusement park, with lots of shops, stalls, costume artists.. But it's quite a long walk from there to the actual ruins, so trust me, the place really is magical. (I was feeling a bit under the weather when I arrived there, but once I left, I felt so much energy!)
Don't forget your bathing suit and sunscreen! It can get VERY hot at the site with very little shade. Also there's a beach where you can cool down after visiting the ruins
Shop/eat hipster food/go to instagrammable places
Unlike my other solo travels, I didn't hang out mostly with other backpackers, but I connected with the locals. And to me, that is the best way to really get to know a place. Big pro is they take you with them to their favorite places!
I'll list you some cool places in my Tulum travel guide that I discovered during my week in Tulum :
Mateo's : Best place to eat fish taco's during the day and to watch the sunset at night. Another must-try experience is : drink mezcal!! Like tequila, this drink is also made of the agave plant, but to me, it tastes a lot better. And as a bonus I didn't have a hangover once! There are a few rules on how to drink mezcal the right way, but just ask a local and he'll be happy to tell you, I'm sure 😀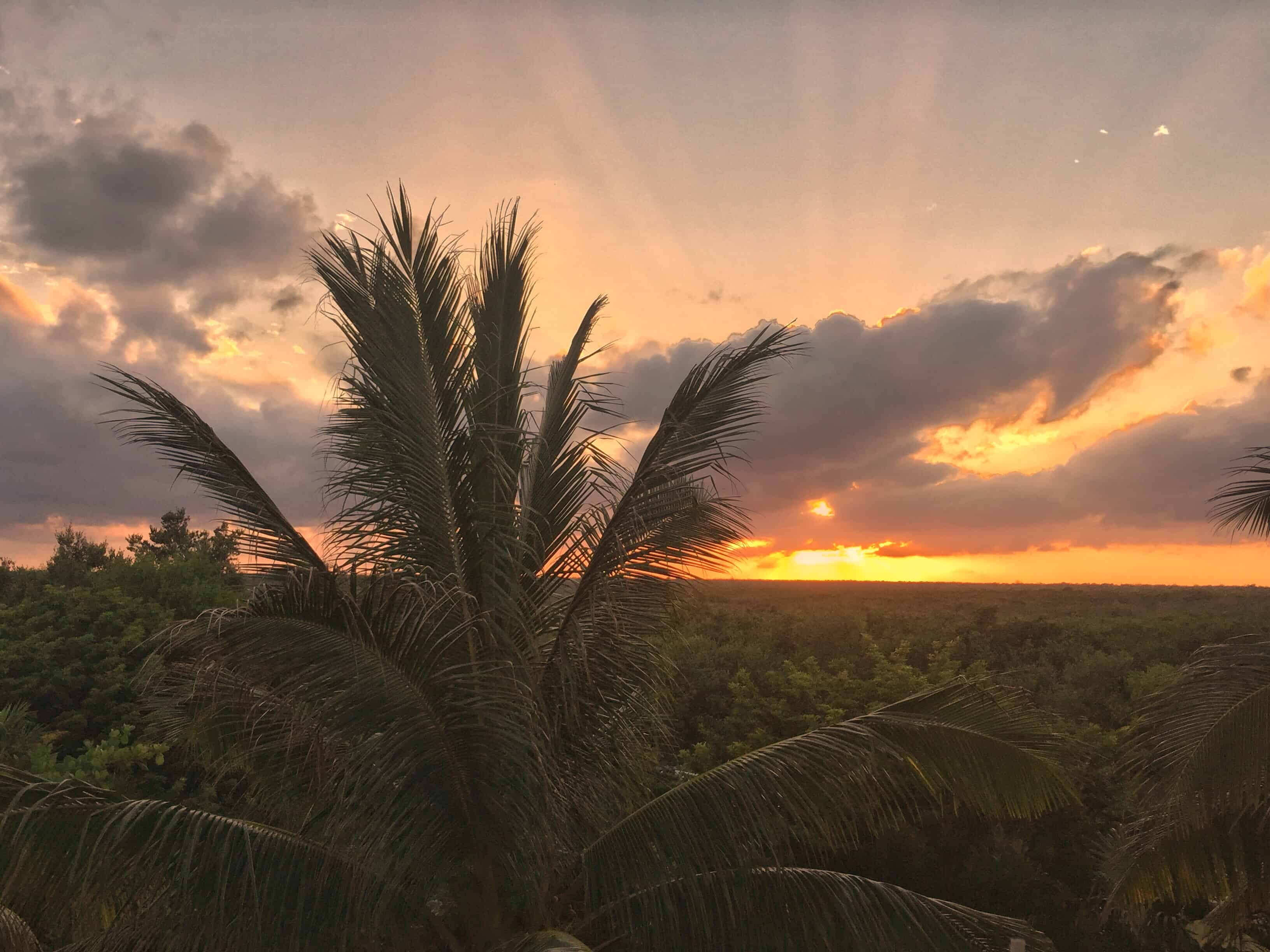 Humo Tulum : Best breakfast I had in Mexico and awesome place to have cocktails!! I can't remember what cocktails I had but I do remember they were of the best ones I had in my life. Also unfortunately I don't have pictures of cocktail night.. 😀 too much fun to take pictures.
Coco Tulum : Cool beachbar with instagrammable swings. They do make you spend some money to let you spend the day here, but the food and drinks are delicious so it would be hard not to spend anything there anyway!
While writing this travel guide about Tulum the urge to go back got stronger and stronger. I can only hope it had the same effect on you! 🙂 I had a fantastic time there and I had so much fun experiencing it all over again. Tulum does have a little bit of a hipster vibe, and it isn't 'the authentic Mexico' as I experienced it elsewhere, but I'm sure Tulum will steal your heart!