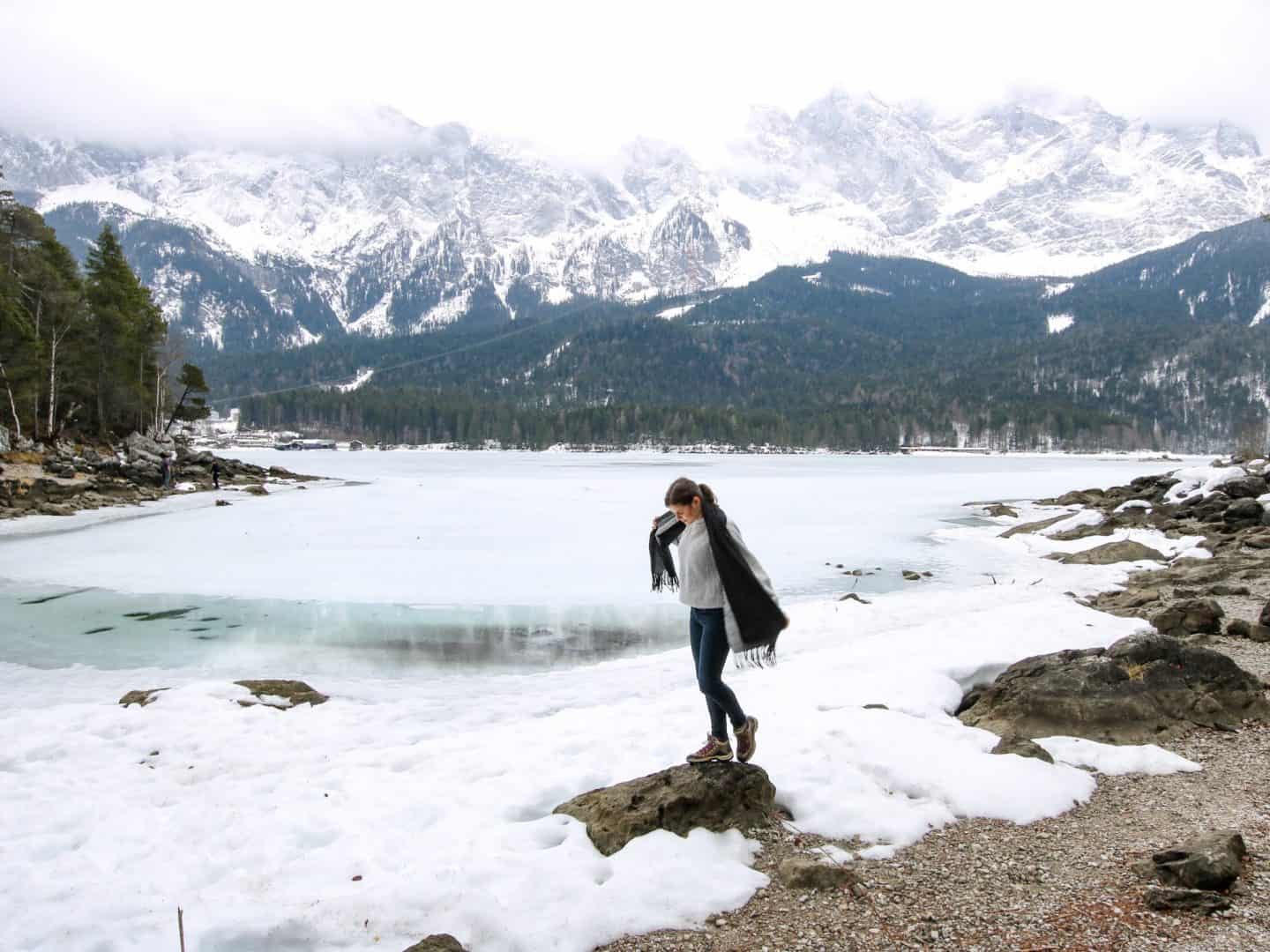 After visiting Geierlay in Germany, I wanted to see more of this beautiful neighbor country. You don't always have to go far to discover beautiful places! Lake Eibsee hadn't left my mind since I had seen it on pictures. This stunning lake with emerald green water, next to the highest mountain of Germany really appealed to me.
The lake was frozen but you can still see the blue/green color of the water
How to get there and where to stay?
Even though it is in Germany, it's a long drive to lake Eibsee, so be prepared if you're, like me, driving from Belgium. It's an 8hour drive from Ghent, but with stops etc you can count 10 hours in total to get there. I loved how the scenery started to change and how suddenly a huge mountain range came into sight.
Me and my friends stayed at hotel Gungl Stubn, a charming little hotel in a tiny village, called Grainau. The hotel is basic but okay, and its location is perfect if you want to hike near Lake Eibsee!
Hike around Lake Eibsee
It's only a 10min drive from Grainau to Eibsee. There's a huge parking lot where the hike starts. You pay a small amount to park all day. From Grainau, you can actually also take a train to the lake. The hike lasts for about 2/3 hours. After a short while you will lay eyes on the highest mountain of Germany : Zugspitse (2.962 m).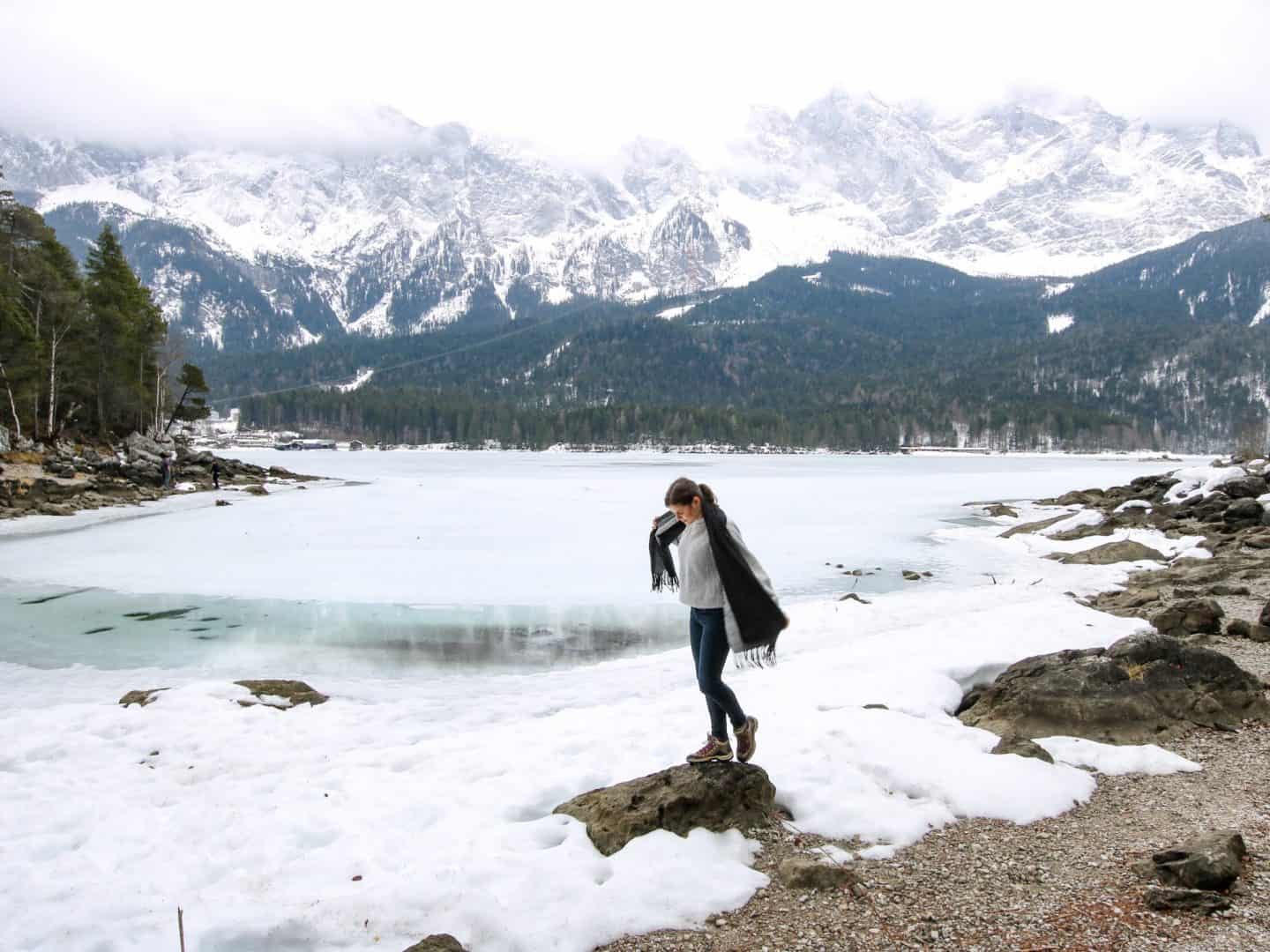 Visiting early March, made the place look like it belonged in a fairytale. The entire lake was frozen; my first thought was to walk on the lake but my friends told me not to :p The sun had been shining a lot the last couple of days, so the ice probably was very thin.
Instead we enjoyed the scenery, threw some snowballs and breathed in the fresh mountain air. Nothing smells as good as nature.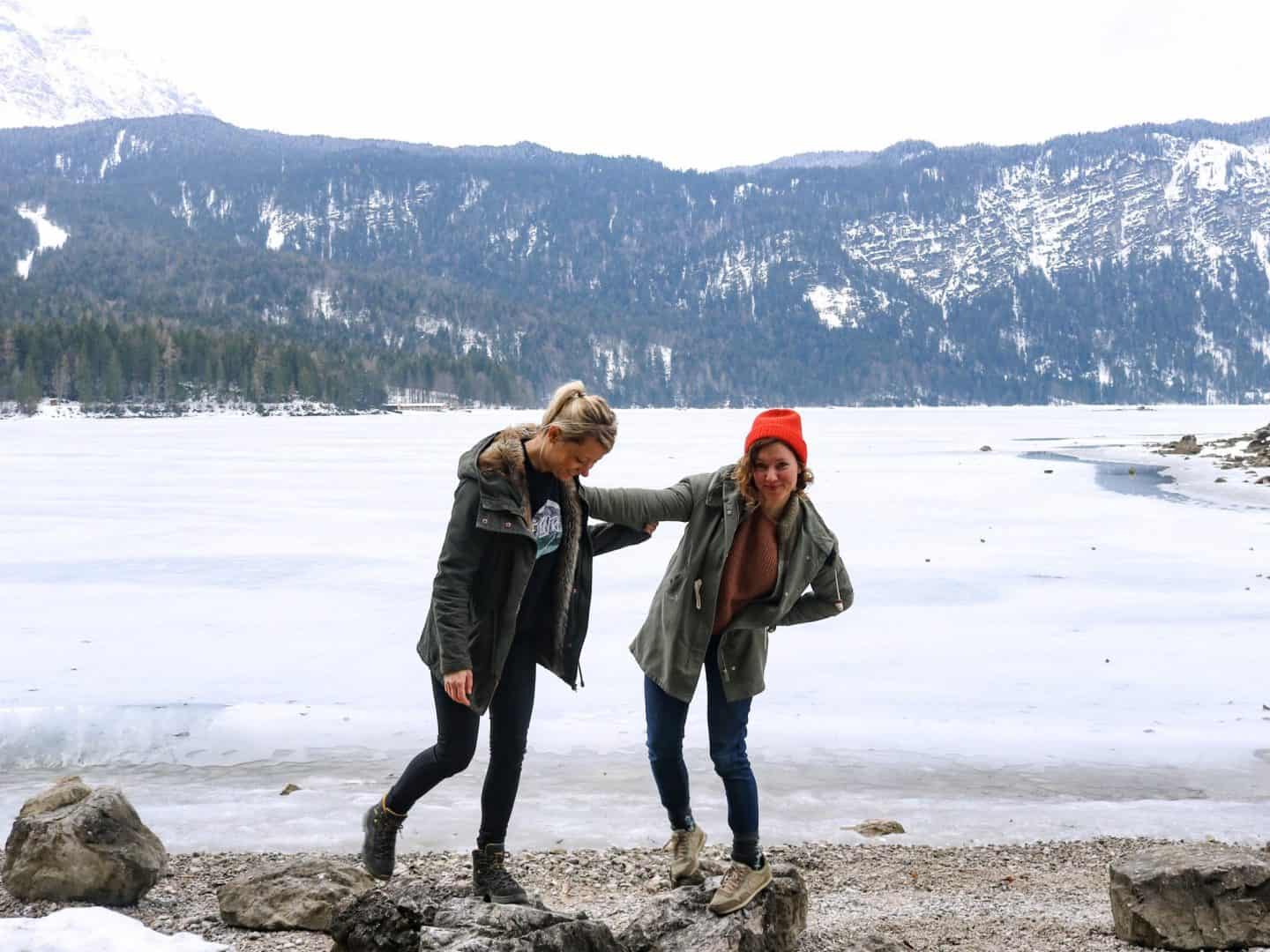 Where to eat?
In the evening we went to Garmisch-Partenkirchen, a city that is actually one of Europe's top winter sports destinations. The city is divided in an 'old' part (Partenkirchen) and a newer one (Garmisch). We strolled around the older part of town filled with houses painted in colorful murals. We had dinner at Zum Wildschütz , a restaurant with typical German food and friendly staff. The waitresses were dressed in traditional outfits, can't really describe it, but you'll know what I mean if you'll go 😀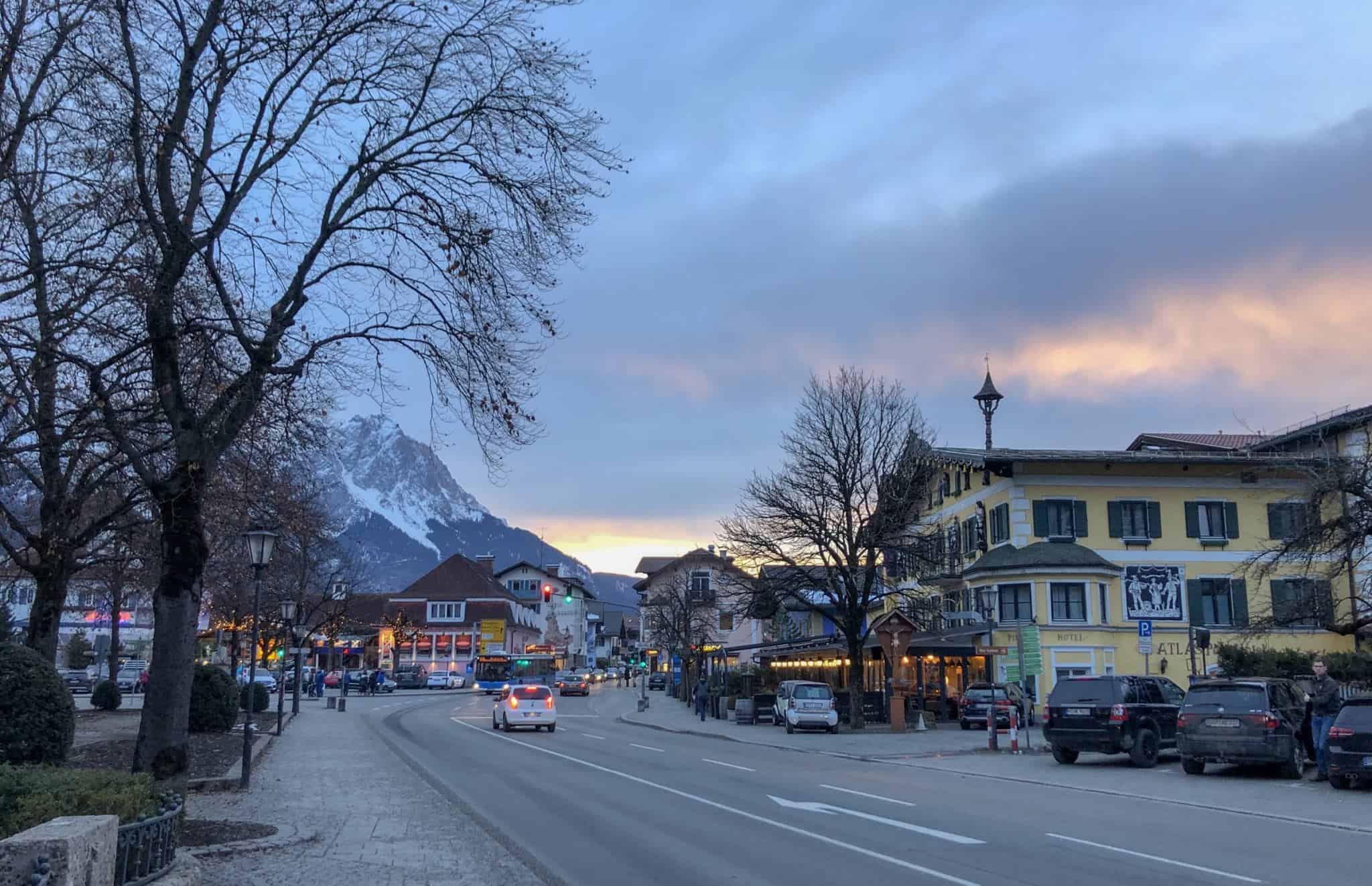 Visit the top of the Zugspitse
The next day the sun was out so we decided we wanted to take the cable car to the Zugspitse peak. The cable car is brand new and was finished in 2017. I had been skiing before but I had never been in a cable car like this. It's cabin is HUGE; 30 people can fit in one! And to be honest, I wasn't entirely at ease 😀 but it surely was an experience! It's not cheap to go to the peak (46,50 euros) but I'm glad we went. On the mountain top you get a panoramic view of more than 400 mountain peaks in 4 countries!
We had a lumumba on the terrace of the café in the ski area and enjoyed the magnificent mountains.
There's also a little chapel you can visit and even an igloo village! It's actually a hotel with a bar and 20 snow houses. (they are built every year and later melt away again) Even if you're not staying there you can enter the igloos and see a glimpse of how it would be to spend the night there. And believe it or not but there's also a spa!
Details of the Iglu Dorf

Goodnight! (brrr)
I was only in the Zugspitse area for a short period of time so I didn't get to do everything I wanted to. If you are planning to go, go for at least a week. In winter you can ski and in summer you can hike, but there's lots of other activities to be done too! Not far from Eibsee you can find Neuschwanstein Castle : one of the most popular castles of Europe. There are also plenty of other castles and lakes to explore in the Bayern Region, so Germany, you can expect me again!