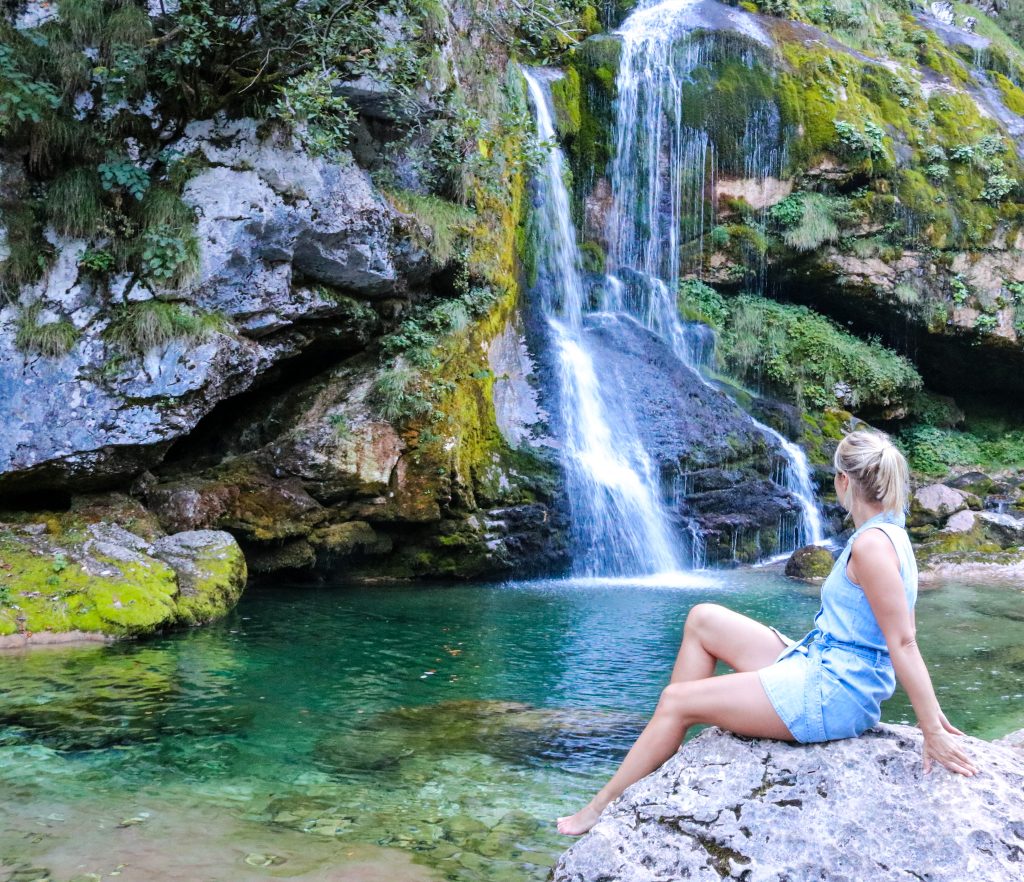 Slovenia is a truly magical country. From scenic mountain drives, enchanting turquoise-green lakes and rivers, picturesque waterfalls and mystical places filled with cultural history, Slovenia has it all! If you are an outdoor person like me, attracted to places filled with a wide variety of natural beauty Slovenia, is definitely a destination for you! On top of that Slovenia is (compared to other countries in Europe) still quite undiscovered so not yet overrun by tourists. In this blogpost I'll take you with me to the most beautiful places in Slovenia.
Practical tips for your travels to Slovenia
But first let me start with some tips to plan your trip to Slovenia :
To get there you can either fly or drive. (for my fellow Belgians : the flight from Brussels to Ljubljana only takes 1,5 hour so personally this would be my choice. If you have more time and are a big fan of road trips : the drive there takes about 11h) Wizz Air flies directly to Ljubljana and is quite cheap! If your country doesn't offer a direct flight to Ljubljana, it's best to search for a flight to a nearby country and drive to Slovenia. But keep in mind that you might need a Cross-Border Card.
Renting a car in Slovenia is cheap and it gives you more freedom. A lot of the places I will list here aren't very accessible by public transportation. You can check Rental Cars to book your car in advance! Driving a car in Slovenia is fairly easy, but be sure to be careful in the many hairpin bends!
I stayed in Slovenia for a week, but I could have easily stayed longer. If you only want to visit the most beautiful places in Slovenia listed below, a week should do!
Most beautiful places in Slovenia
Lake Bled (Ojstrica trail)
Let's start with the most famous viewpoint of Slovenia : Lake Bled! And yes it's probably the most touristic place of the entire country but it is still worth a visit! In the center of the lake you find a little island with a church. Legend says that if you ring the bell of the church whilst making a wish, your wish will come true! If you visit the island, you can either row there yourself or take the Pletna Boat.
But to me, the best experience to have at Lake Bled is to hike the Ojstrica Trail and catch the sunset there. Be sure to leave on time because we didn't and we had to rush the entire trail. (1,5-2h round trip) Keep in mind that the way to the viewpoint is completely uphill, and it is best to wear appropriate shoes for the hike. (I wouldn't recommend hiking in the rain, cause the path can get muddy and slippery). We were lucky enough to get the place entirely to ourselves and watch the sun go down at this fairytale-like setting.
The next few places (*) in this list are all situated in Triglav National Park, the biggest national park in Slovenia. The park is situated in the northwest of Slovenia, close to the Austrian border and is named after Mount Triglav, the tallest peak in the country.
Lake Bohinj (*)
Only 25km's away from Lake Bled, you can find the largest natural lake in Slovenia, Lake Bohinj and I absolutely loved it! Emerald green water surrounded by nothing but massive mountains. When we got there it was a nice and sunny day so I didn't hesitate and just got in the water instantly! It was the perfect way to cool off! This lake is less crowded than Bled and the perfect destination for outdoor lovers. You can rent kayaks, canoes and SUP boards, there's a 9km cycling route or you can walk around the lake (12km).
Savica Waterfall (*)
Also in the Bohinj region, you can find one of Slovenia's most magical waterfalls : the Savica Waterfall. This waterfall is quite exceptional cause its watercourse is divided into two parts and like this, forms an 'A'. To start the hike to this waterfall you need to drive to the Savica hut. It's only a 20min but kinda steep hike to the waterfall. It was raining when we visited this place, but because of the rain we were the only ones there for a while! So don't let a little rain stop you from visiting places, it might have its perks too!
Triglav Lakes Valley Hike (or Seven Lakes Valley) (*)
This is without a doubt the most memorable experience in this list! The hike is considered one of the most beautiful day hikes in Slovenia and takes about 5 hours one-way. Along the way you'll be treated with breathtaking panoramic views and lakes.
The starting point of the hike is the Savica hut. From there the trail is steep for hours non-stop, so be prepared, this hike is not easy! (you start at 650m and ascend to 1685m) The first lake you get to see is the Black Lake (Crno Jezero) at a height of 1294m.
After a well deserved break, you continue to the Triglav Lakes Hut where you'll find a truly spectacular landscape with a Double Lake. (Dvojno Jezero).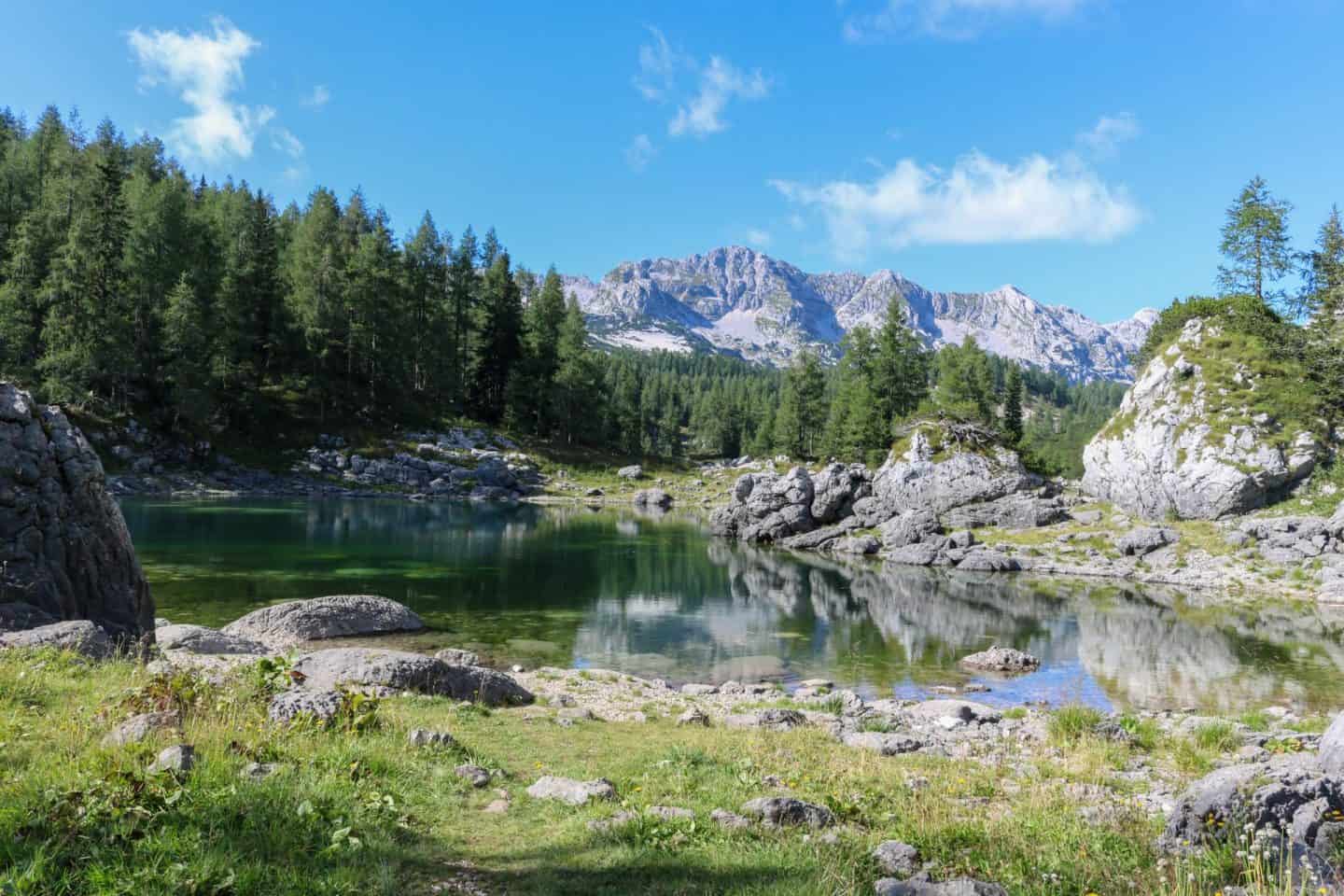 We made our way back to the Savica Hut from there but if you have the time you can continue to 'Kidney Lake' (Lake Ledvica). And even better, if you have two days, you can overnight in the Triglav Lakes Hut or hike all the way to the other mountain hut, hut Zasavska koča na Prehodavcih and spend the night there. If you hike two days you'll lay eyes on all 7 lakes!
The Soča river (*)
This emerald green river is considered one of the most beautiful rivers in Europe and is very popular with water sport enthusiasts. We were there on a hot summer day but the water was still freezingly cold! If you want to indulge in water sports (rafting, kayaking, SUPing,…) the best place to stay is in Bovec, where many travel agencies offer a variety of water activities.
The Soča river is 137 km long so there are endless places to see it. One of the possibilities is to hike to Soča trail that runs along the river and starts right after Kamp Soča.
Vintgar Gorge (*)
One of the most popular attractions of Slovenia is the Vintgar Gorge, a 1.6km long gorge along the Radovna river. Strolling along the wooden walkways takes about 1,5 hour and ends at the Sum waterfall. This place can get very busy during the day, so go early if you want to beat the crowds. If you happen to be hungry after the walk : try the Bled Cream Cake in the café at the entrance, it is heavenly!
Vintgar Gorge is located 4km north of Lake Bled so you can either walk from there or drive your car to the parking lot. From the parking lot we had to take a bus to the entrance, but don't worry, everything is arranged very well and it all went smoothly!
Virje Waterfall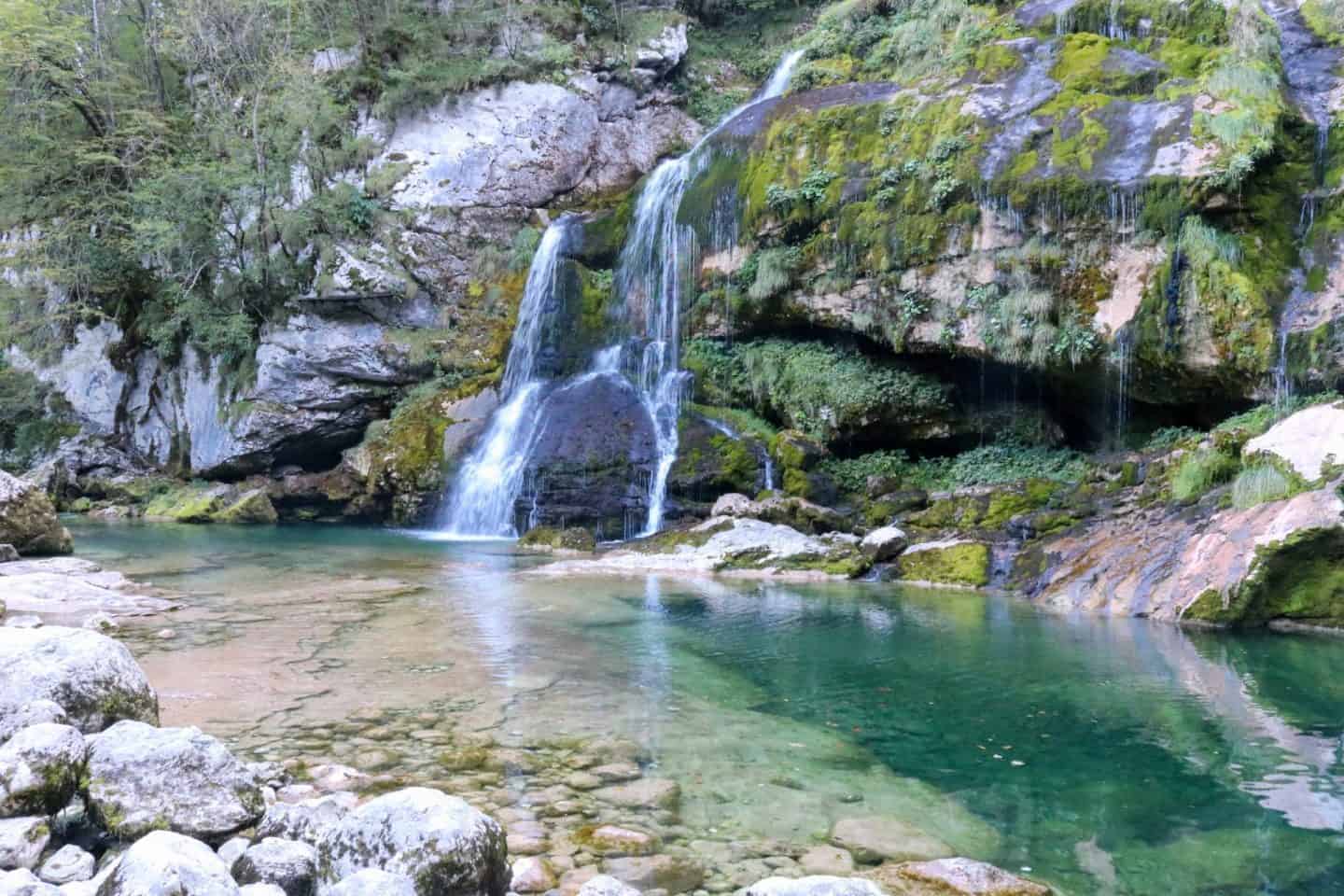 The Virje waterfall doesn't stand out because of her greatness but looks nothing less than it belongs in a fairytale. And if you are brave enough, you can even swim there. (but beware : the water is véry cold and the stones are slippery). To visit this waterfall you should drive to the village Pluzna. You can park your car there or 500m further. From the parking lot the walk only takes 5min to this pretty waterfall!
Lake Jasna / Kranjska Gora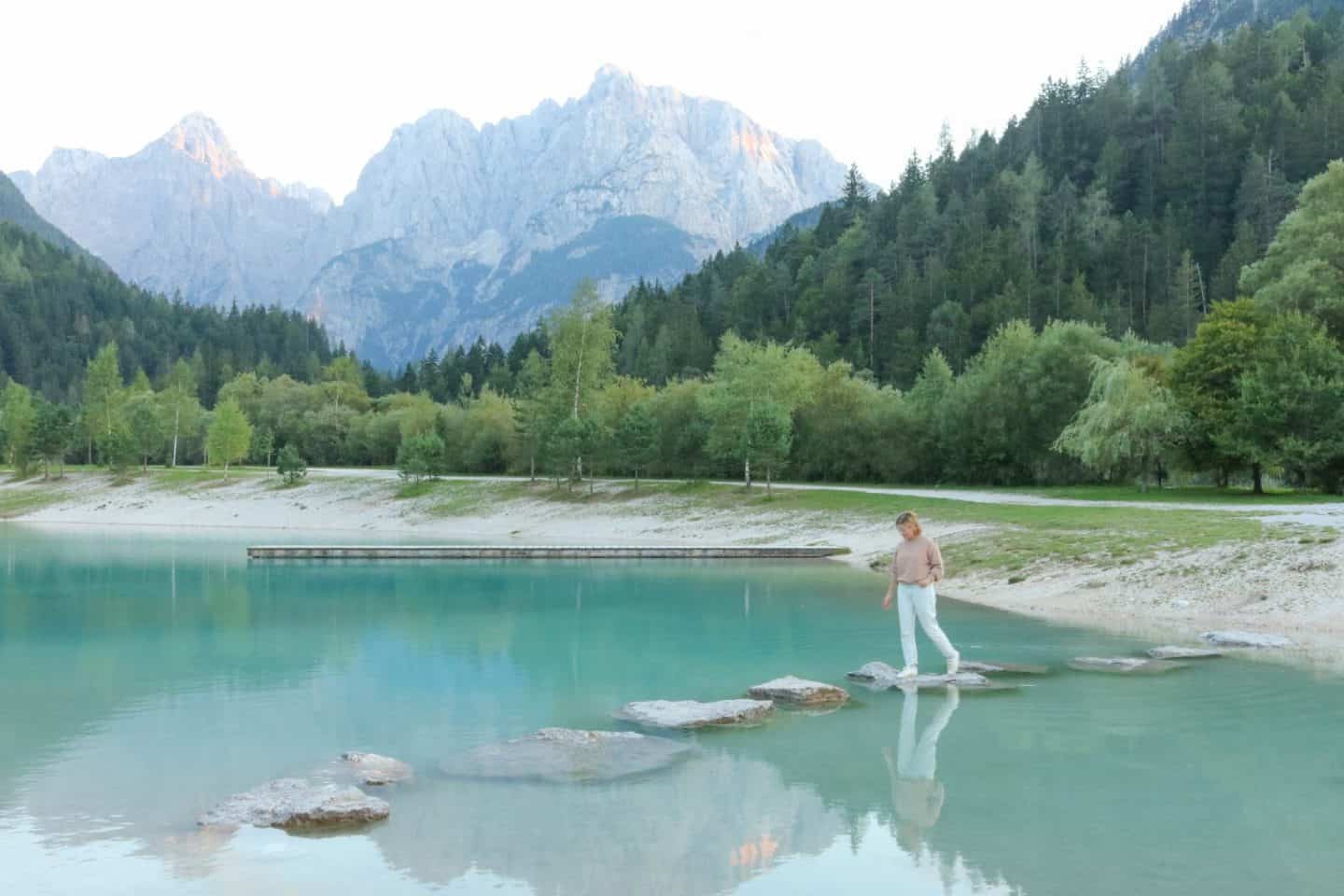 If I had to pick a favorite place in this list, it would be Lake Jasna, an alpine lake with the best view on the Julian Alps! You can find this lake in walking distance from the little town Kranjska Gora, close to the Austrian border. Although it's a popular tourist destination, this place is extremely peaceful.
Relax in one of the lounging chairs on the terraces while taking in the amazing landscape! When you visit in summer, promise me that you'll take a dip in the water! It's so refreshing (read : cold) but swimming surrounded by mountains is an experience you just have to try! And for the real adventurers there are some diving platforms too!
In winter the lake is frozen which allows you to ice skate. This region is also known for its skiing; Kranjska Gora offers 18 ski slopes and you can ski right to your hotel! Definitely going back in winter to experience all of this!
Tip : We stayed at the amazing Vandot hotel in Kranjska Gora and I highly recommend this place. The location is perfect (in walking distance from Lake Jasna); the rooms and service are impeccable and the breakfast to die for!
Lake Zelenci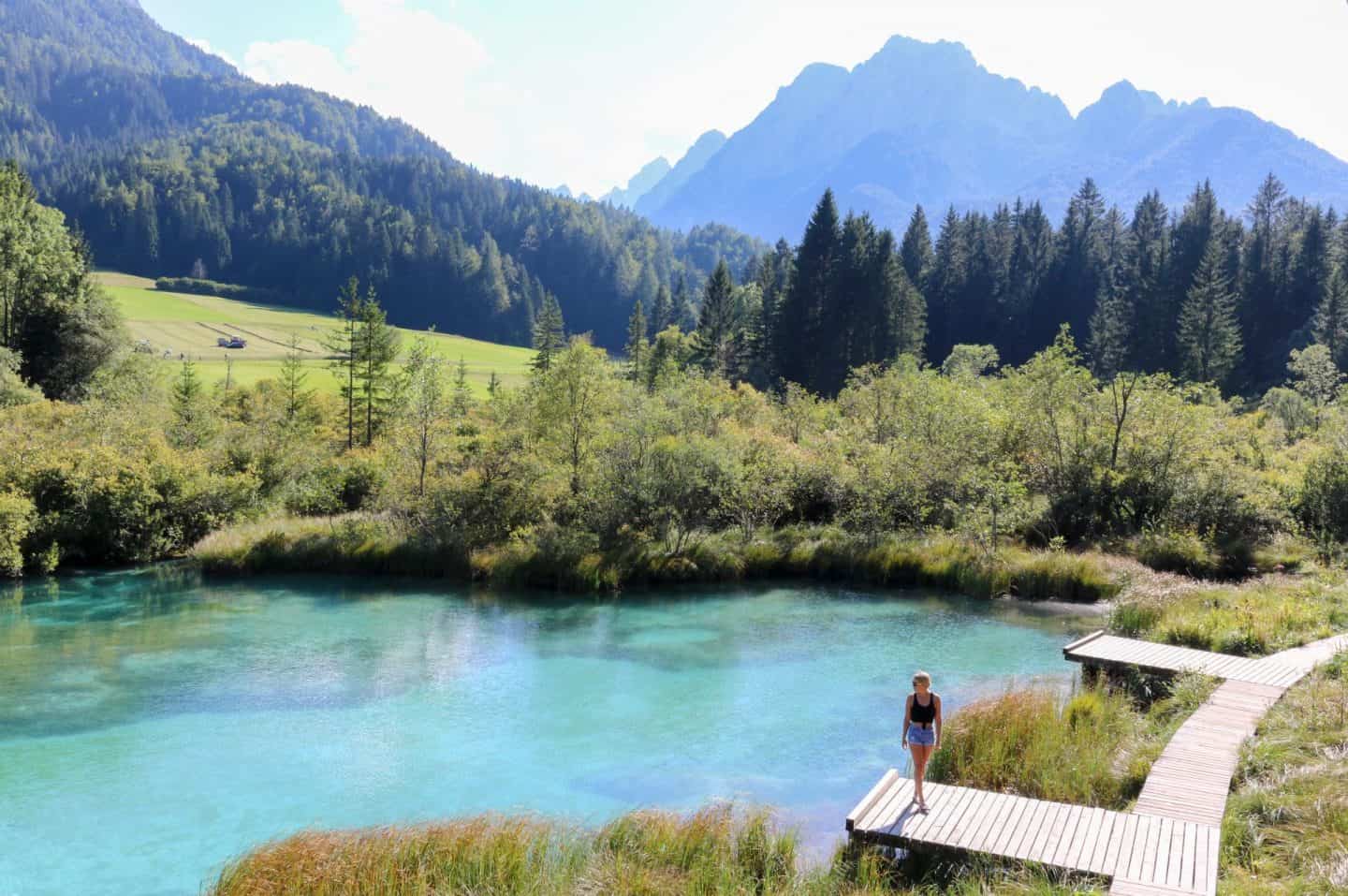 This dazzling nature reserve has remained unchanged for centuries and looks like a painting! It's so pretty you'll think you are dreaming. It's actually a spring from the underground water of the Nadiza Creek. Water in the most beautiful green/blue surrounded by the peaks of the Julian Alps, I think I have found my next meditation spot! The water of the lake never freezes and is 6 degrees all year round! The reserve is home to various interesting flora, amphibians and nesting birds. You can take a walk on the wooden footpath without harming nature.
How to get there : Lake Zelenci is situated at the northern edge of the Triglav National Park. You can leave your car at the parking lot, located right next to the road from Kranjska Gora to Rateče. From there it's only a 5min walk to the lake.
Logarska Dolina / The Logar Valley
The Logar Valley is claimed to be one of the most beautiful Alpine glacial valleys in Europe. To enter the valley you need to pay a small fee, but with that fee you help the preservation and development of the landscape park. When we first got there it was clouded, but after a while the sky cleared up and we were treated with an amazing view over the green valley and the imposing Alps.
Hiking in this magical valley is very rewarding as there are more than 40 registered natural attractions in Logarska Dolina. One of them is the Rinka Waterfall, one of the highest waterfalls in Slovenia with its 90m.
If you want to spend the night in this gorgeous valley, you can! One of the best hotels in the region is Hotel Plesnik offering an amazing eco wellness center.
Velika Planina
Last but not least in my list of most beautiful places in Slovenia is Velika Planina, the largest shepherds' settlement in Europe. To get to this plateau, you need to take a cable car in Kamniška Bistrica (10km away from the town Kamnik). After the cable car you can either take the chair lift or hike your way up.
We chose to hike up and it was an out of this world experience! It was misty at the time and this added to the mysterious mood of the place even more. Hiking in this captivating landscape whilst hearing cowbells in the distance was unforgettable.
Once you get to the Velika Planina you'll see many huts, where shepherds stay from June to September. Don't forget to try the traditional shepherd food in summer! In winter, you can ski and night sled.
To help you plan your trip, I marked all the places on this list on the map below.
Slovenia has surprised me in every possible way. Its natural beauty is incomparable to any other country I have been to. On top of that the people are so heartwarming and welcoming, which ensures that your travel experience is even more complete.
I hope you've enjoyed my list of most beautiful places to visit in Slovenia. Of course, there are plenty more gorgeous places to see in Slovenia, but to me, those were the ones that stood out the most. Definitely going back to this idyllic country in the future, so stay tuned!