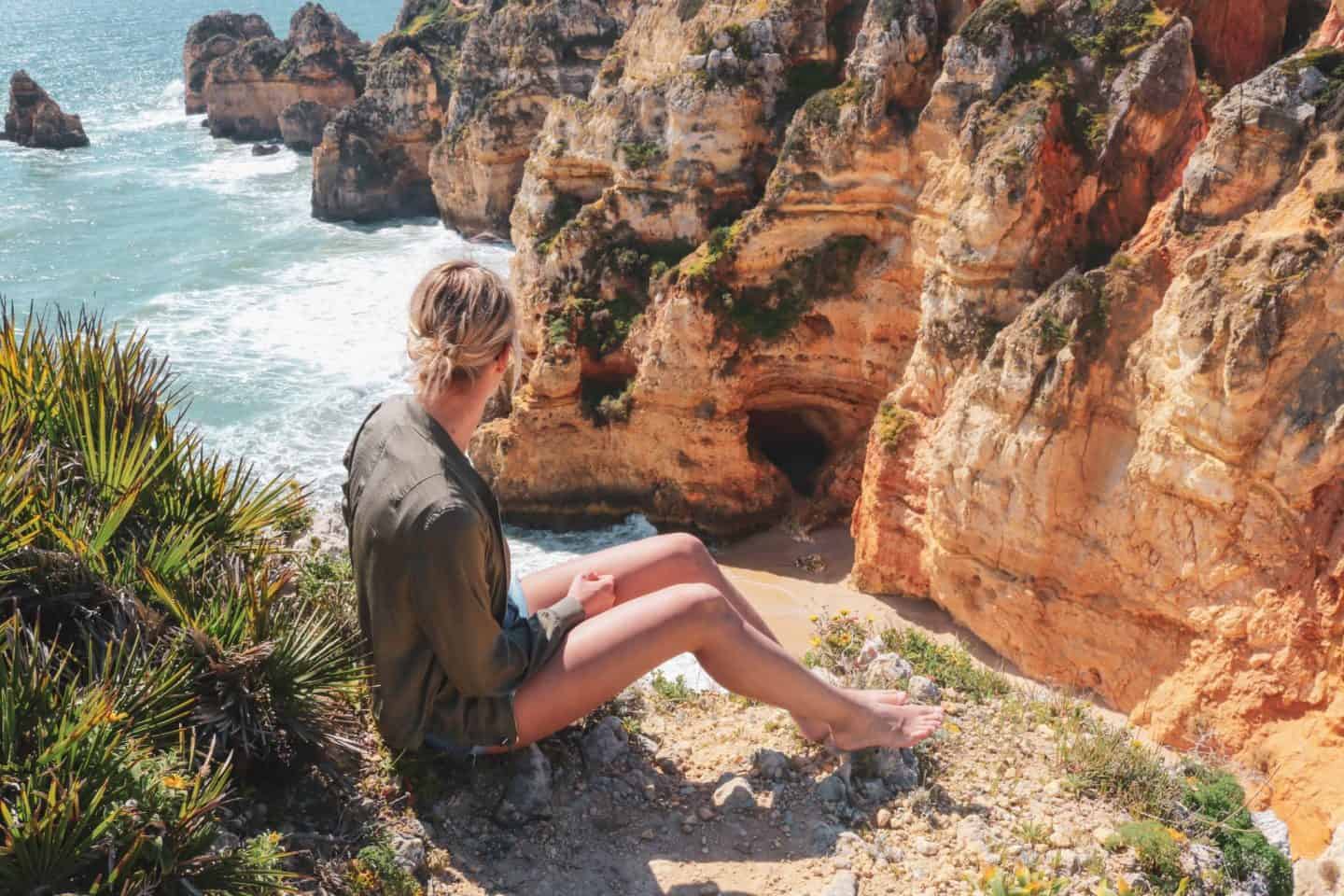 Algarve is the southernmost region of Portugal and is famous for its spectacular coastline with rough cliffs, golden beaches and clear blue water. And when I say spectacular I really mean it, cause I don't think I ever discovered so many unexpected beautiful places in such a short time! Can't get over how much beauty Portugal has to offer : Madeira, Lisbon, and now Algarve! If you are visiting this region any time soon, you're lucky, cause I have listed the best things to do when going to Algarve! (if you are a lover of little hidden beaches and breath-taking nature, that is.. but honestly, who isn't? :D)
Before you go..
But first, some practical info that could help you when visiting the Algarve. Coming from Belgium, we decided to fly to Lisbon and then drive south to Lagos. We didn't feel like having to take two flights and it's only a 2,5h drive from Lisbon to Lagos. I would have preferred to take the 'scenic' route, but actually there is none, so the best way to get there is to just take the highway. You do have to pay some toll, but in exchange of that you get good roads that are almost empty!
Talking about getting a place to yourself; I would highly recommend to visit the Algarve off-season. (March till June or Mid-September till October are perfect if you don't like the crowds and heat) By doing so, you get to have some of these amazing beaches all to yourself!
We decided to stay in Lagos because it was close to almost every place I wanted to visit!
Best things to do in Algarve
Hike the Seven Hanging Valleys Trail
I went to Lagos with my sister and since we both love to hike we spent the first day hiking! I chose the Seven Hanging Valleys Trail because it offers the most gorgeous views over the coastline and caves.
It's a round trip that takes place along the top of the cliffs and lasts for about 5h (12km). The name actually comes from the 7 watercourses that have created 7 small valleys into the scenery. In the third of the seven valleys, you'll find Benagil Cave. (one of the most famous caves in the Algarve) The hike starts at Praia da Marinha, which is considered one of the most beautiful beaches in Europe.
Can you tell we are sisters? 😀

Along the way you'll also find the prettiest houses!
Need I say more?! Just go on that hike! 😀 But (!) : be sure to bring sunscreen and enough water, cause even in March you can get sunburnt..
How to get there : Follow the road EN125, turn south by the International School. Then just follow the signs for the Marinha Beach
Go for a walk on Praia dos Estudantes
This beach is a photographer's dream! First of all, there's a huge manmade arch connecting the mainland with the rocks and it kinda looks amazing :
Secondly, this beach is made out of two mini-beaches. You can reach the second one by entering a small tunnel. Everywhere you look you get other perfect angles to shoot! But also for non-photographers, this beach is a gem.
Unfortunately I didn't make it here for sunrise, but I'm pretty sure seeing the sun pop out here is magical.
Stroll around Lagos town and eat the best seafood you ever had!
Lagos is a charming little town with mosaic sidewalks and a waterfront promenade with cute little shops. I didn't expect much of it, since I'm more into nature and I expected it to be overly touristy, but I actually really liked it. There was a laid-down and friendly vibe in the town that I could get used to! We went to two amazing restaurants that I would like to share with you.
The first one is Casa do Prego and had the trendiest design and very friendly staff. Portions were HUGE and the food was yummy. Oh, and their sangria's are huge too 😀 we thought we ordered a bottle by accident but that was actually 'just a glass' .. This restaurant is definitely a must-visit!
We went to the second one, Restaurante Don Sebastiao in the afternoon and it had the cosiest terrace to just chill and people-watch, and enjoy the sunshine. We had some fresh seafood and a very good glass of wine. Surely would recommend going there, also, their service is impeccable!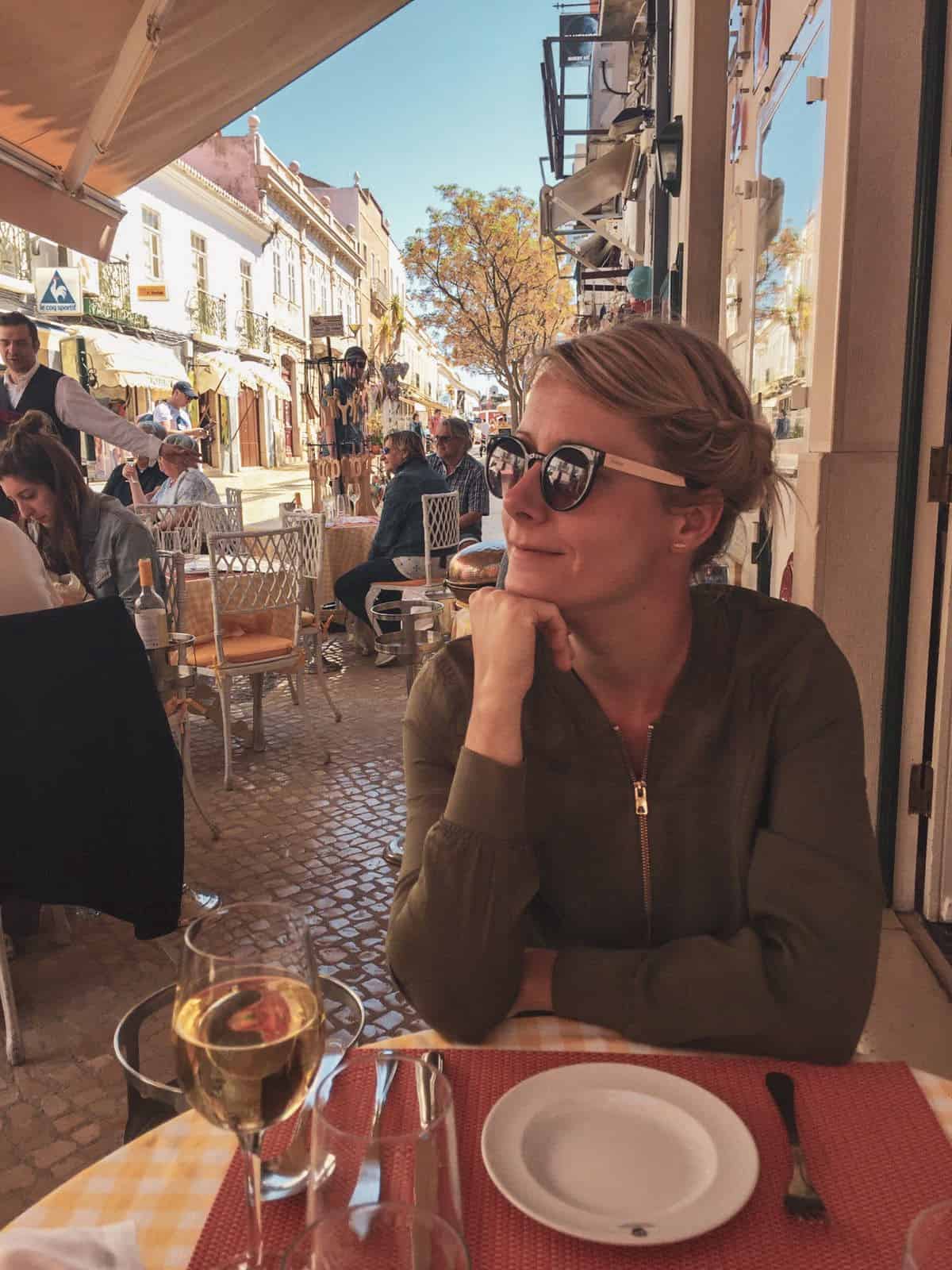 Watch the sunset in Sagres – Cabo de São Vicente
Sagres is a small surfing town not far from Lagos. It's mostly known for the Cabo de São Vicente viewpoint, which is often referred to as 'the End of the World'. I had to go and check out a place like that. It's actually called that because it's the most southwestern point of mainland Europe, and until the 14th century, people thought it really was the end of the world. (the Romans thought the sunset here was larger than anywhere else!)
Go see the beauty of Praia do Camilo
To get to this beach you have to step down 225 steps but I wasn't complaining with a view like this! Golden sand, orange cliffs and clear blue water; I don't know about you, but this looks like heaven to me! On top of that there is no wind on the beach because of the high cliffs. So be sure to bring some drinks and food to chill at Praia do Camilo. In summer beaches like this can get very crowded, so you'll have to get there early to get your spot. Also keep in mind that the beach shrinks when the tide rises, so the space of available beach gets even smaller. But if you visit off-season you get a place as wonderful as this one almost to yourself!
How to get there : Since we were staying in Lagos, Praia do Camilo was in walking distance of our hotel. (actually if you stay in Lagos you can walk from Praia do Camilo to Ponta de Piedade, Praia dona Ana and Praia dos Estudantes; so it's really practical to stay there!)
Experience the magic of the sunrise at Praia dona Ana
This beach was next to our hotel so one morning I got up early to experience and capture the sunrise. I got there right on time! I'll let you enjoy the magic of the sun popping out with me :
Ponta de Piedade
Saved the best spot for last, cause if I had to pick a favorite from my 'best things to do in Algarve', this would be it. To get to Ponta de Piedade you'll have walk down one of the most impressive staircases I have ever seen. But even from the top you'll already get a glimpse of the 20-metres high golden cliff formations in the ocean..
Once you get down the stairs you'll see a little platform. When the tide is low you can also get off the platform and walk around the beach, it's magnificent! But don't forget that the tide can change very fast so be sure to get back on time! If not, there's always a rope to help you climb up the wall 😀
How to get there : From Lagos, follow the road for Praia Dona Ana right to the end.
I hope by now you are as excited as I am about the region Algarve in Portugal. Its actually a place I could see myself live one day, so I know I'll be back!