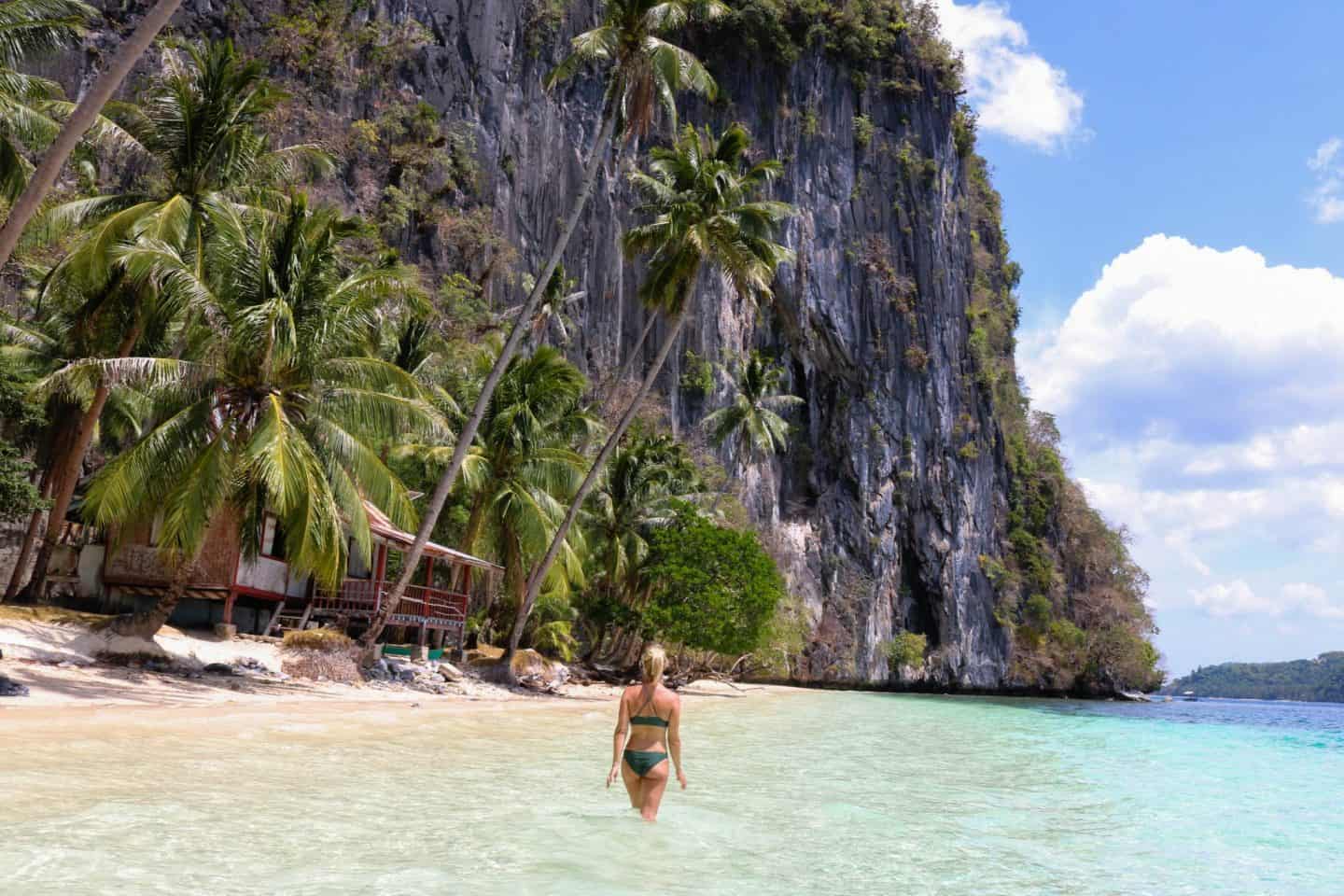 El Nido, situated in the province Palawan, is one of the most popular destinations in the Philippines. And this is why : enchanting lagoons, limestone cliff formations and of course the countless beautiful islands with the whitest sand and the clearest water you can imagine. I will tell you everything you need to know before going to El Nido in my El Nido travel guide.
Why travel to El Nido?
The Philippines are an archipelago consisting of 7.641 islands so planning an itinerary might be quite challenging. But you won't be sorry if you include El Nido in your trip. The town itself isn't very special, that's a fact. But it's all about the island tours, that take you to places beyond your wildest dreams.
But even on the mainland you can find places of extreme beauty! Nacpan beach; one of the most beautiful beaches in the world according to Tripadvisor is located north of El Nido.
Also, the food that can be enjoyed here is of the best Philippine food I have eaten! I'll list down some restaurants further in this El Nido travel guide.
What island tour to book?
The first question you have to ask yourself is : will I book a private tour or a group tour? Both have its advantages but to me, the private tours were a bit too expensive.. But if you're not on a budget, go for this option. You can leave as early as sunrise (or even earlier) and get to all the magical places before the other tourists arrive! Just go to the pier where the boats are to negotiate a price or go to the main street, you'll find plenty of agencies that will help you with it.
The group tours in El Nido are called A, B, C and D. The most popular tour is tour A, because this tour includes the big and the small lagoon. When we were in El Nido, we couldn't book tour A anymore because they only let 300 people visit the Big Lagoon in a day and the slots were already full. So we booked tour B. But I am SO GLAD WE DID!! Because we saw an endless amount of boats leaving for the other tours; we were the ONLY boat that went on tour B!! So if you're going for the true 'I am on a deserted island-feeling' choose tour B 😀
El Nido island hopping tour B
The tour costs about 1300 pesos for a whole day and this includes the use of fins and snorkel masks, and also a delicious, healthy lunch! You can book the tour literally everywhere in El Nido town but we booked it at the Happiness Hostel. I'll list you down the places you'll visit on this tour :
Pinagbuyutan Island
First stop was my favorite island, Pinagbuyutan Island. Words can't even do this place justice. The island is heaven on earth: it has a huge cliff on one side, and a gorgeous white-sand beach on the other side.
As you can see I was quite a fan of the tiny house that looked out over the ocean. People actually lived there, can you imagine waking up in a place like this every day?!
And to top it all of, there are palmtrees spread all over the island. Paradise for photography-lovers!
Cathedral Cave
Unique rock formations that form a narrow high-ceilinged entry gave this cave it's name. I was already looking forward to seeing the cave from the inside but then the guide told us we couldn't go in. Instead the boat stopped in front of the cave to let everyone take some pictures. We couldn't swim in either cause according to our tour guide, there were snakes in the cave. No idea if this was true 😀
Snake Island
I had seen this place on photos before and was really excited about it. It should have been a huge rose/white sand bar where you could walk on in the middle of the ocean.. Unfortunately when we got there it was high tide; we could only see the sand bar under water.
It's still a nice place with green hills all around and we hiked our way up to see the sandbar more clearly from up high.
Cudugnon Cave
This was the second cave in Tour B but a far more exciting cave than the first one! The boat dropped us off at the beach and then we had to crawl into a tiny hole in the cliffs to get to the cave! Who would have believed a giant cave like this exists hidden in the walls of the cliffs.
Entalula Island
Our last stop was actually a private island, but it is possible to visit this gem during the El Nido boat tour B. With water in different shades of blue, super high palm trees and dazzling white powder sand this place is truly heavenly. It's a perfect spot to swim and snorkel, take pictures and just relax and take in all the beauty El Nido has to offer.
Nice places to drink/eat
Last but not least in my El Nido travel guide are some awesome places to grab some food or to watch the sunset.
So, by now I think you have a clear image of everything El Nido has got to offer and why you should include this place to your itinerary. If I would have had more time I would have done all the boat tours instead of just one, because to me, Palawan was the most beautiful place in the Philippines.