My favorite cities? Cities that give you the best of both worlds : cosy and vibrant with culture 'on the inside', while surrounded by astonishing nature 'on the outside'. When you visit Innsbruck for the first time you will be amazed by the glorious mountains surrounding the colorful city. You might not want to look down in the first few hours. But please do, cause the city itself has so much to offer too : shopping, culture and cuisine! After you explored the city, you can relax on one of the sunny panoramic viewpoints, higher up the mountain. Doesn't sound bad at all, does it? So whether you go skiing in St. Anton, or go on a roadtrip through Austria, don't forget to spend a few days here!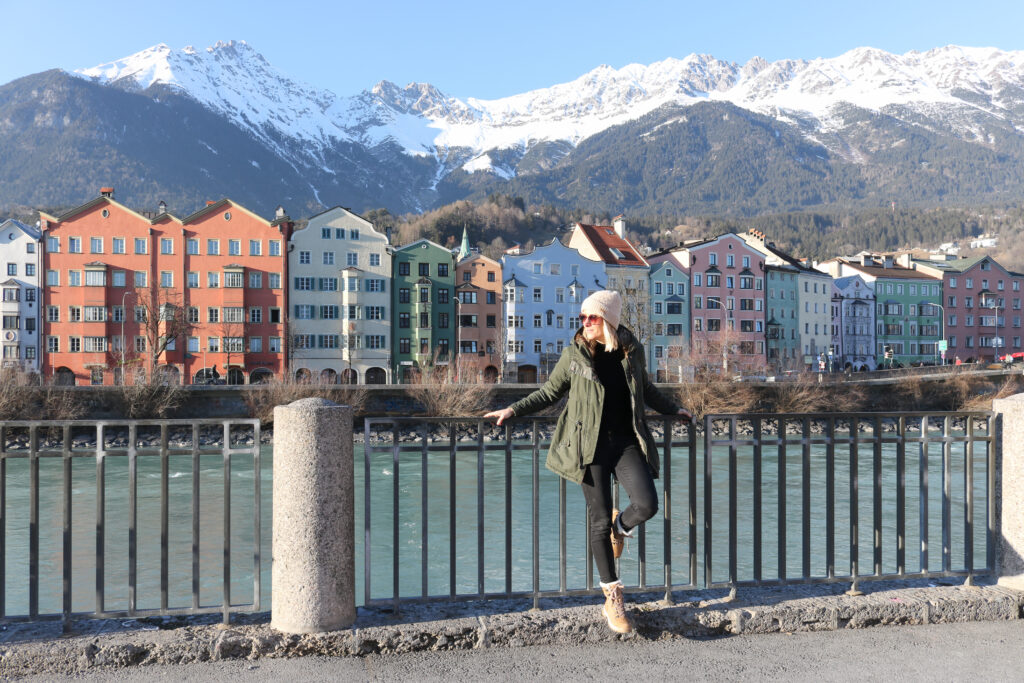 In this blogpost I will help you plan your weekend in Innsbruck so that you can enjoy the perfect mix of nature and culture.
How to get to Innsbruck
Innsbruck is the trendy capital of the Austrian state of Tyrol. As I mentioned in my St. Anton blogpost, Innsbrück is conveniently accessible.
By train : Good news for all fellow Belgians : A new night train takes you straight from Brussels to Innsbruck! (This train will be operating from January 2020 until December 2020). In 2021 you can take a direct train from Amsterdam to Innsbruck.
By plane : Tui Fly takes you directly from Antwerp to Innsbruck. If you prefer leaving from Brussels, you can fly with Transavia, that will take you straight to Innsbruck from December 2020 to April 2021! Flying into that airport is quite an experience : you literally land 'in between the mountains'.. If your country does not fly to Innsbruck, other close airports are Memmingen, Zürich, Friedrichshafen, München or Salzburg.
By car : From Ghent, it takes about 8,5 hours to get to Innsbruck. (traffic jams not included). Keep in mind that you need to buy a vignette to enter Austria. (valid for 10 days, 2 months or a whole year) You can buy it at the border or at petrol stations.
For more info about how to get to Innsbrück from your country, you can check the Innsbruck website.
Where to stay
Even though everything is within walking distance, a central location of your hotel is a big plus. We stayed at the Stage 12 Hotel , located on the Maria-Theresien-Strasse, Innsbruck's pedestrianized main street, and probably the most photographed street of the city, rightly so! In addition to its location, the Stage 12 Hotel offers rooms with a very trendy design.
We were lucky enough to get a balcony with a mind-blowing mountain view. After waking up, the first thing I did was open the curtains and enjoy the first light coloring the mountains.
Best things to do in Innsbruck
Explore the old town
After a delicious breakfast buffet in our hotel, we headed out to wander round the charming city. Since we only had a limited amount of time, we took a guided city tour that showed us all the highlights of the city. Our enthusiastic and Dutch-speaking guide Mary took us to historic buildings, cosy cafes and colorful houses. It would take me too long to name them all but the sights that stood out to me the most were : the golden roof, the town tower, the triumphal arch and Ottoburg. If you are a history lover, Innsbruck has plenty to offer for you!
TIP FOR YOUR VISIT TO INNSBRUCK
Very useful is the all inclusive Innsbruck card : this card gives you free access to most of Innsbruck's museums, public transport and the cable cars in and around the city.
Take the Nordkettenbahnen to Seegrube (and after continue by cable car to Hafelekar)
What I loved the most about Innsbruck? The ease with which you could leave the bustle of the city behind and find yourself on top of a mountain with the most amazing view only 20min later. A lot of students hit the slopes for a while after a busy day of studying in the city. Imagine spending your college years like that!
A chain of one funicular (Hungerburg) and two cable cars take you to the Nordkette, (a part of Austria's largest nature park), and a height of 2344 m in a very short time. The stations of the Nordkettenbahnen were designed by top architect Zaha Hadid, depicting the movements of the diminishing glaciers.
The Seegrube cable car takes you to a restaurant and lounging terrace (1900m) with an astonishing view on the surrounding slopes, mountains, and the city of Innsbruck down below. But I must warn you, once installed in one of the lounging chairs, it might be hard to leave.
After chilling for a while, the next cable car (Hafelekar) takes you even higher in the mountains. The views that await you make you realize how tiny we are in the universe. And that's exactly what I'm traveling for.
Visit the renowned Bergisel Ski Jump
Also designed by Zaha Hadid, the Bergisel Ski Jump sure is a sight to see. You can see this impressive ski jump, located on the Bergisel hill, from afar when walking in Innsbruck town. I had always been fascinated by the athletes that 'flew' in the air almost fearlessly. But seeing exactly how high they start their descent only increased my respect.
If you are hungry or just want to enjoy the view, there's also a panoramic restaurant and viewing terrace.
Eat strudel
Our city guide Mary accompanied us to the Strudelcafe Kröll . In the morning we only had a (delicious) coffee there but we went back the following day to have a taste of one of the many strudels! You can choose between a wide variety of salty and sweet strudels. I strongly recommend you to visit this place at least once when visiting Innsbruck.
Winter hiking
Hiking is one of my favorite holiday activities. In and around Innsbruck there are several themed walks to discover the city's diversity. They take you right across the city or up into the mountains. Even in winter, there are winter hiking trails, created to guide you safely through snowy conditions.
We chose to hike walk 2 that took us to the Bergisel Ski Jump, the viewing platform Drachenfelsen and the mountain river.
Needless to say that this is a non-exhaustive list of things to do in Innsbruck. You can easily spend a week (or longer) in this marvelous city and you'll still want to come back for more later. Plenty of more tips and activities can be found on the Innsbruck website.