When I was little, my mother often took me and my sister biking along the Leie. I can still remember those beautiful summer days and evenings. That's why it was a bit nostalgic for me to spend a weekend rediscovering the inspiring Leiestreek by bike again.
'De Leiestreek' is the entire area that extends between the source of the Leie in Northern France, and Ghent where the Leie flows together with the Schelde. An easily accessible region, which is definitely worth discovering by bike or on foot. Not only because of the varied landscape, but also because of the many creative entrepreneurs that will welcome you with open arms in their region.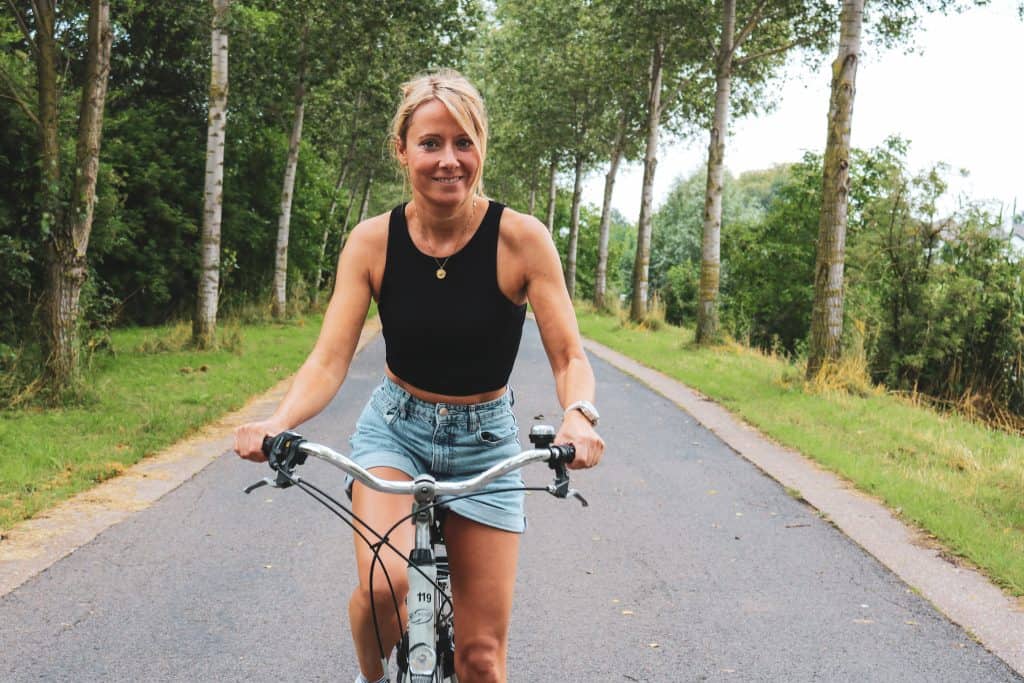 In order to be able to enjoy de Leiestreek to the fullest, Toerisme Leiestreek actually mapped out 10 ready-made trips for walking or cycling. I will take you with me on trip 1. We cycled 100 km in 3 days through picturesque landscapes and idyllic villages. And no need to worry about food/drinks. You can fill your belly or quench your thirst in one of the many trendy addresses that you come across along the way.
Some practical tips before you go
You can either bring your own bike or rent a bike at : het verzet, Bike corner Deinze or Veloods Waregem.
The best days to plan this trip is from Friday till Sunday, because then most of the addresses on your route are open.
The lodging addresses are willing to bring your luggage to the next address, or to the train station for a small fee. We were happy to use this service because it's just a little more pleasant to cycle without being fully loaded.
Each day you follow a few cycling junctions (fietsknooppunten). You can download the cycling map here or you can also use the app from Vlaanderen Fietsland.
Day 1 weekend Leiestreek: Deinze -> Sint-Martens-Latem (38km)
Our first day we arrived at the train station in Deinze with lots of energy and a whole lot of excitement to start our cycling trip. I knew Deinze a little bit, but I was actually amazed by how cozy this city had become. A perfect place to enjoy a nice coffee or take a look at one of the many (pop-up) shops the city has to offer.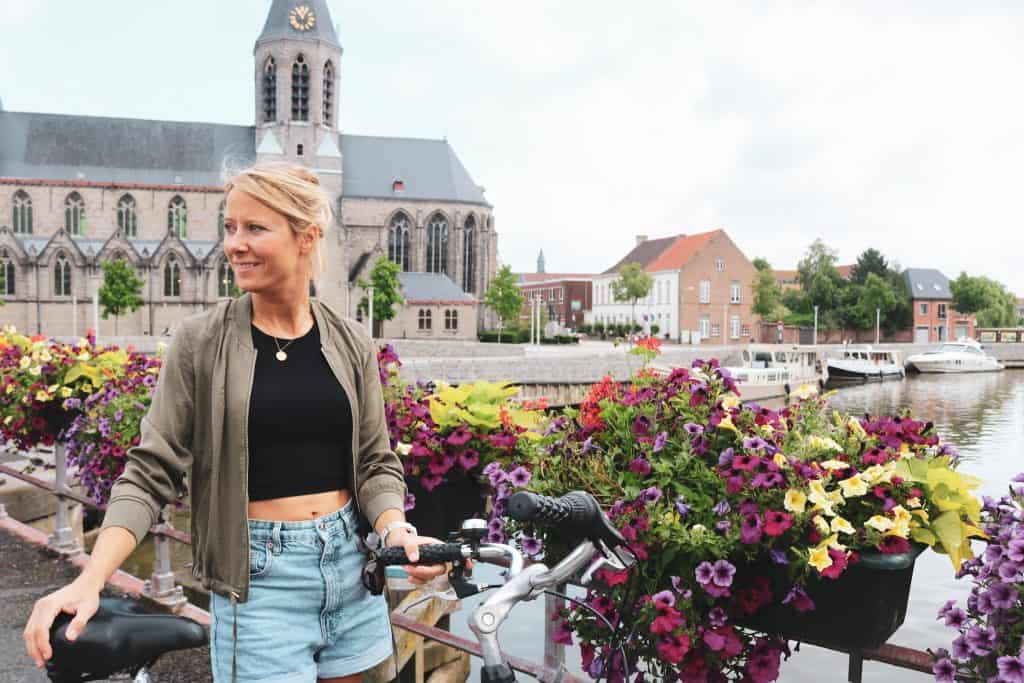 During the three days you will cycle a very varied route: from cycling along the water, through fields and winding roads to discovering inspiring villages. I will not go into detail about the cycling route, I will let you discover it for yourself, but I will describe a number of stops below that I would definitely recommend during your trip.
First stop : lunch at Foodbart
You can either start your day with a lunch at Foodbart, or you can make a stop after a while of cycling to top up your energy level. (foodbart is situated near cyling junction 6, which occurs twice in the route of day 1) Whether you want to keep it healthy, or go all in with a hamburger; it's all possible at Foodbart. I chose the healthy option and ordered the 'chicks favorite', it was delicious. Don't forget to order the sweet potato fries on the side.
Second stop : Kasteel Ooidonk
Kasteel Ooidonk is considered one of the most beautiful castles in Belgium and therefore definitely worth a visit. You can enjoy a walk in the beautiful gardens or take a look inside the magnificent Renaissance castle in Spanish-Flemish style. (but be sure to check the opening hours in advance)
After the second stop it is not much further to our first accommodation : Leiecabin.
Our first place to stay was really sublime, a true hidden paradise close to home. Located in a garden right next to the Leie, you are guaranteed a wonderful view during your time there. Moreover, there is also no lack of luxury : in addition to a converted caravan with all comfort, you can also choose to book a luxury glamping tent and literally wake up with a river view.
But wait, there's more! 😀 SUPs are available to explore the water. And after the effort of cycling and supping, there is also a hot tub and sauna to fully relax afterwards. And if desired, a breakfast service can also be used. What more could you possibly want?
Day 2 weekend Leiestreek : Sint-Martens-Latem -> Merendree (33 km)
After waking up to the sound of birds singing and having breakfast overlooking the water, it is time to start our second day of cycling. Sad because we already have to leave our little paradise but also very curious about what is still to come. (this being said, book a long enough stay at leiecabin, you won't regret it)
First Stop : Hospicebossen
Our first stop of day two are the Hospicebossen in Nazareth which are a whopping 58ha in size. You can stop here for a while and go for a walk on the trails or you can just cycle past it. There is also a play area for children.
Second Stop : Veer Bathio
When we arrived at Veer Bathio in Bachte-Maria-Leerne at first I thought we weren't going to get across. I was looking for some boat that was going to get us across the river. But there was no boat or captain involved at all 😀 You had to get to the other side all by yourself using your own muscle power by turning the wheel of the ferry. Funny situations guaranteed and a real adventure for children.
Our second stay was a unique guesthouse in picturesque Merendree. De Dag Des Heeren (or Day of the Lord) is actually a renovated farmhouse but what a gem they have made of it! The friendly owners, Bart and Kathleen, have lovingly built up their guesthouse over the years and this shows. It's very difficult to describe the magical atmosphere exactly in words so I'll just let the images speak for themselves.
The rooms, as well as the bar and the meeting space downstairs exude an incredible charm. Everywhere you look you'll find something unique (especially antiques) that catches your eye. And what's more, most of the pieces you find in the meeting space are for sale.
But what made this place extra special to me? The breathtaking garden! We took the time to stroll in the beautifully designed garden and simply dream away. We enjoyed a glass of wine on our balcony overlooking the garden at sunset and a delicious breakfast to start the day after in a magical way.
Day 3 weekend Leiestreek : Merendree -> Gent (30 km)
First Stop : Oude Kalevallei
Merendree is absolutely gorgeous to cycle through. One of the highlights of this idyllic village for me is the Oude Kalevallei. A wonderful piece of nature I already knew before because there are also beautiful hiking trails. It is also one of the best-preserved natural areas in 'het Meetjesland'. A perfect place to enjoy the tranquility of nature by bike or on foot.
Second Stop : Baarle 90 & Baarleveer
Baarle90 is a sophisticated restaurant with tables that offer a beautiful view of the water. Unfortunately, the restaurant was not open on Tuesday. But I will go back later to experience having lunch at this romantic spot later.
The Baarleveer is an automated ferry with which the captain will take you to the other side with a smile. No need for manual labor here, just relax and enjoy the view!
Third stop : Kantien
The very last stop of our Leiestreek weekend, which might also be seen as a reward for the hard work your legs have already done at that point, is Kantien in Ghent. Located at the Watersportbaan, the spacious terrace looks out over the water. But the interior inside is also worth a look, and since the weather wasn't brilliant that day, we took a seat at a table inside.
Keep in mind that the kitchen is open from 12pm till 2pm. (on Sunday till 3pm) We didn't get there until later, but we were able to enjoy some delicious bar bites.
With a full stomach and tired legs, but a renewed mind, it's time to conclude our cycling trip. If I inspired you and you would like to cycle this trip too, or you want to take a look at the other 9 trips to spend a weekend (or longer) in de Leiestreek, you can download the magazine on their website. Happy hiking or cycling!