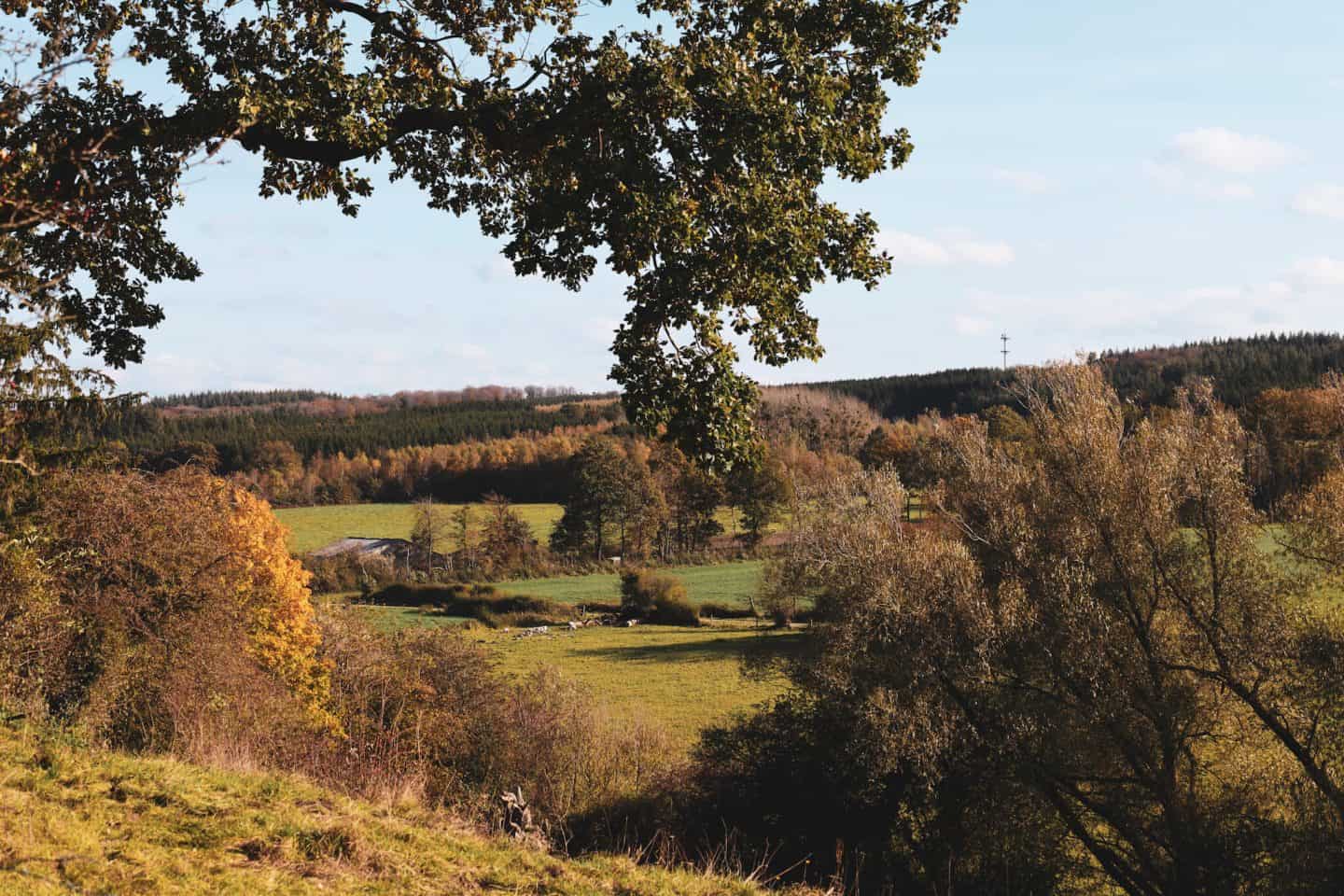 Since it wasn't easy to plan a far-away trip this year, I sought out nature a little more often close by. My go-to place to unwind and connect to nature is the Ardennes. You can get lost in beautiful forests and wander with a view of endless plains. On top of that, the villages in the Belgian Ardennes have a charm that can hardly be compared to anything else. You go back in time, without having to sacrifice luxury.
Every now and then, we feel the need to retreat into nature. No morning rush nor traffic jams, just slow mornings. Enjoying a cup of coffee while birds are singing. Overlooking a view of greenery where the mist lingers for a while, creating a magical setting. After a brisk walk in the open air, you can warm up indoors by the fireplace and read a good book or catch up on lost time with family or loved ones.
Over the years, I have discovered a number of places that made a lasting impression on me and that I would like to share with you. Whether you want to travel to the Ardennes with your lover or with your whole family, I got you covered!
Ecorce Tree House – Condroz region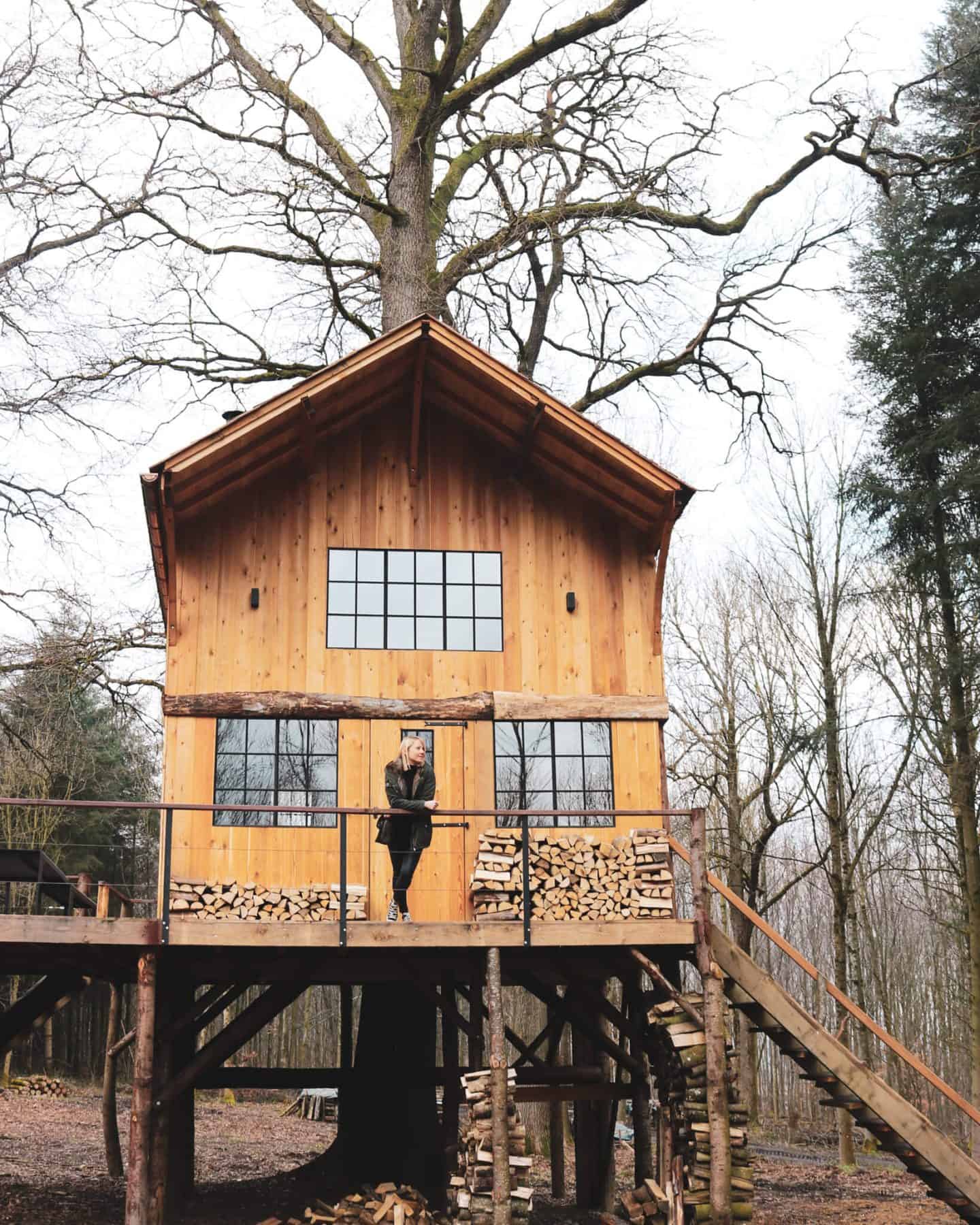 This luxury tree house in the heart of the Ardennes, Condroz, is a real gem.
The tree house is built in a big tree and is the only one on the entire domain. What makes this stay so special is that you really find peace and quiet here.
Everything is arranged so that you don't even have to meet a host, which only enhances a restful and intimate weekend.
The tree house consists of two floors. Downstairs you will find the fully equipped kitchen and a super cosy living room to unwind in.

Upstairs you will find a gigantic double bed and a wonderful bath from where you have a beautiful view of the surrounding woods.
The treehouse is finished with high-quality, durable materials. The warm and earthy interior invites you to spend an evening by the fire. This accommodation is therefore perfect for a couple in the mood for romance.
And you don't have to worry about food or drinks either. Ecorce offers formulas with breakfast, raclette and even BBQ, for which the large terras is perfect.
It goes without saying that beautiful walks can be made in the surrounding area. There is a booklet in the treehouse with all the information you might need during your stay. In short, everything is thought of here to make your stay carefree and relaxed.
Vue Sur Somme Holiday Home – Durbuy region
Vue sur Somme is a brand new holiday home in the Ardennes, ideal for families or groups. (it can accommodate 9 people). The house's greatest assets are its timeless and elegant rural interior and the sublime view you have from the dining room and the garden. In every room you can see that the furnishing of the house has been thought through, down to the last detail.
By using natural materials, the peace of nature was also brought inside. The stunning picture walls give the bedrooms that extra touch of magic. My favorite room? The forest room. Sun or rain, here you wake up to a sunrise every day. My little niece certainly loved it too.
Speaking of children, they have been thought of, too: the playground in the garden and the playroom upstairs will make it hard for your little ones to leave. A fire pit was also provided, which undoubtedly leads to many cosy and unforgettable winter and summer evenings. Enjoying the warmth of the fire while roasting marshmallows or chatting at sunset with a glass of wine. Sounds pretty good to me.
Vue Sur Somme is located in Somme-Leuze, and is therefore an excellent starting point for discovering the lively village of Durbuy. Durbuy is sometimes called the smallest city in the world. When you stroll around in the narrow alleys, it seems as if time has stood still. The cobbled streets and historic houses create an atmosphere that is hard to match.
And of course hikers will also get their money's worth here, as everywhere in the Ardennes. Starting from the holiday home, I hiked through forests, along rivers and crossed valleys where you could see endlessly.
Hotel Quartier Latin – Marche-en-Famenne region
Looking for a place to be spoiled after your time outdoors? Then Quartier Latin might be the right place for you. This hotel, located in a former Jesuit church from the 18th century, pampers you endlessly.
Enjoy a soothing massage after your long hike or take a dip in the beautiful indoor swimming pool. After you can enjoy a delicious multi-course menu in the restaurant. Do not forget to taste their delicious coffee cake : it is to die for! I ate it every day for breakfast and as a dessert every time. Just couldn't get enough 😀
We also used the E-scooter, available at the hotel, to explore the area. It was my first time and at first I felt quite ridiculous, but after a while it became really fun. Laughter guaranteed. And for an even more exclusive experience, you can rent one of their classic cars at Hotel Quartier Latin. But the hotel is also a great starting point for walks. Just ask for the walking booklet at the reception and you are good to go.
The Ardennes will always be my refuge when I feel the need to be soothed by nature. There are undoubtedly other places in Belgium full of natural beauty, but the Ardennes give me peace like no other place can.
Since I certainly plan to visit again more often in the future, this list of special places to stay in the Ardennes will be updated from time to time. Feel free to let me know if you know any nice places yourself.