The country I live in is small and flat. Nevertheless, over the years I have discovered some places with amazingly beautiful nature in Belgium. These are the places I go to when I can't travel and need to escape from every day reality. Places that recharge me and make me realize that my country, how tiny it may be has a lot to offer.
High Fens – Hoge Venen – Hautes Fagnes
If I had to choose one favorite place in Belgium, the High Fens would be it. Whenever I'm there I feel small, at peace and so grateful I get to experience all that nature has given us.
The High Fens are a 5000 ha big nature reserve in the Ardennes and are a dream to hike in. The landscape varies from fens and meadows to forests. And one of the reasons I love this place so much is because of the infinite views you are treated with.
From hiking on wooden boardwalks through the heather to wandering through enchanting forests… The High Fens are a piece of nature that will please many. Les Hautes Fagnes (as they are called in French) are beautiful in every season and in winter you can even cross-country ski.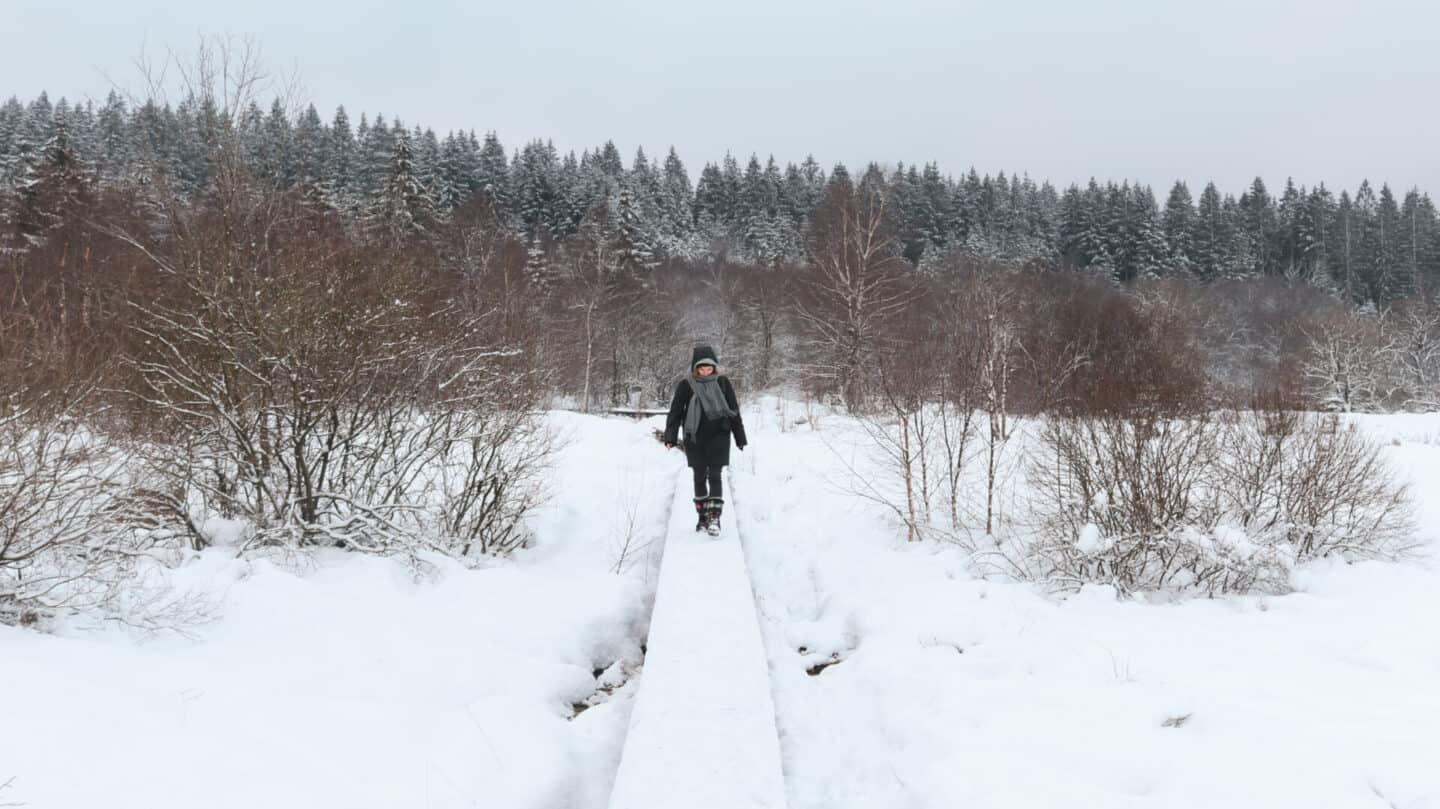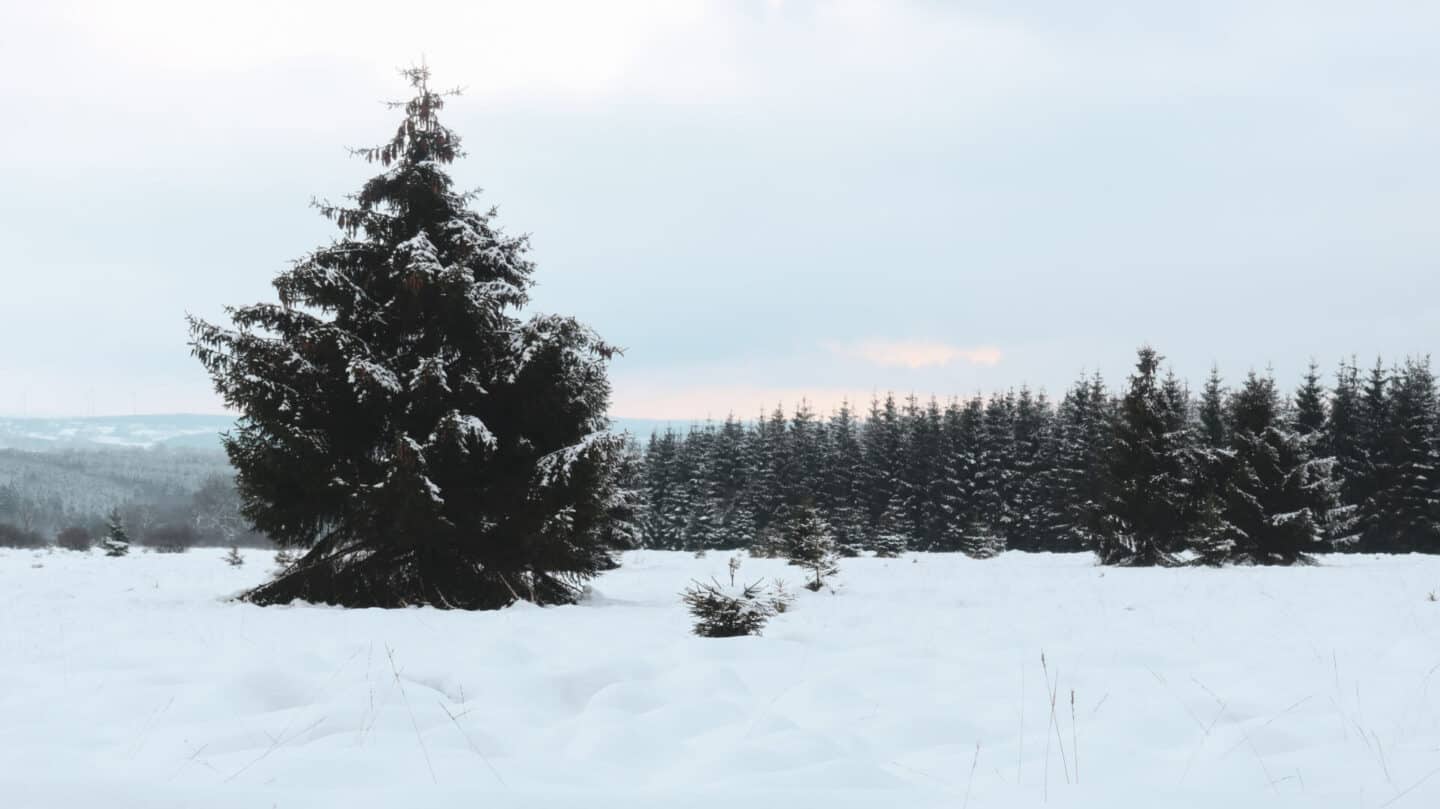 If you want to stay a little longer and make a weekend out of it, the towns of Malmedy and Spa are good spots to look for accommodation. For more info about several hikes you get to choose from, the Ostbelgien site has got you covered.
When it snows, this region might get crowded. That's why this winter, I chose to visit on a weekday. If you do choose to go there in a snowy weekend, it might be best to pick a hike that is less popular. (you will quite quick discover how crowded the places are by the amount of cars parked..)
Bouillon – le tombeau du géant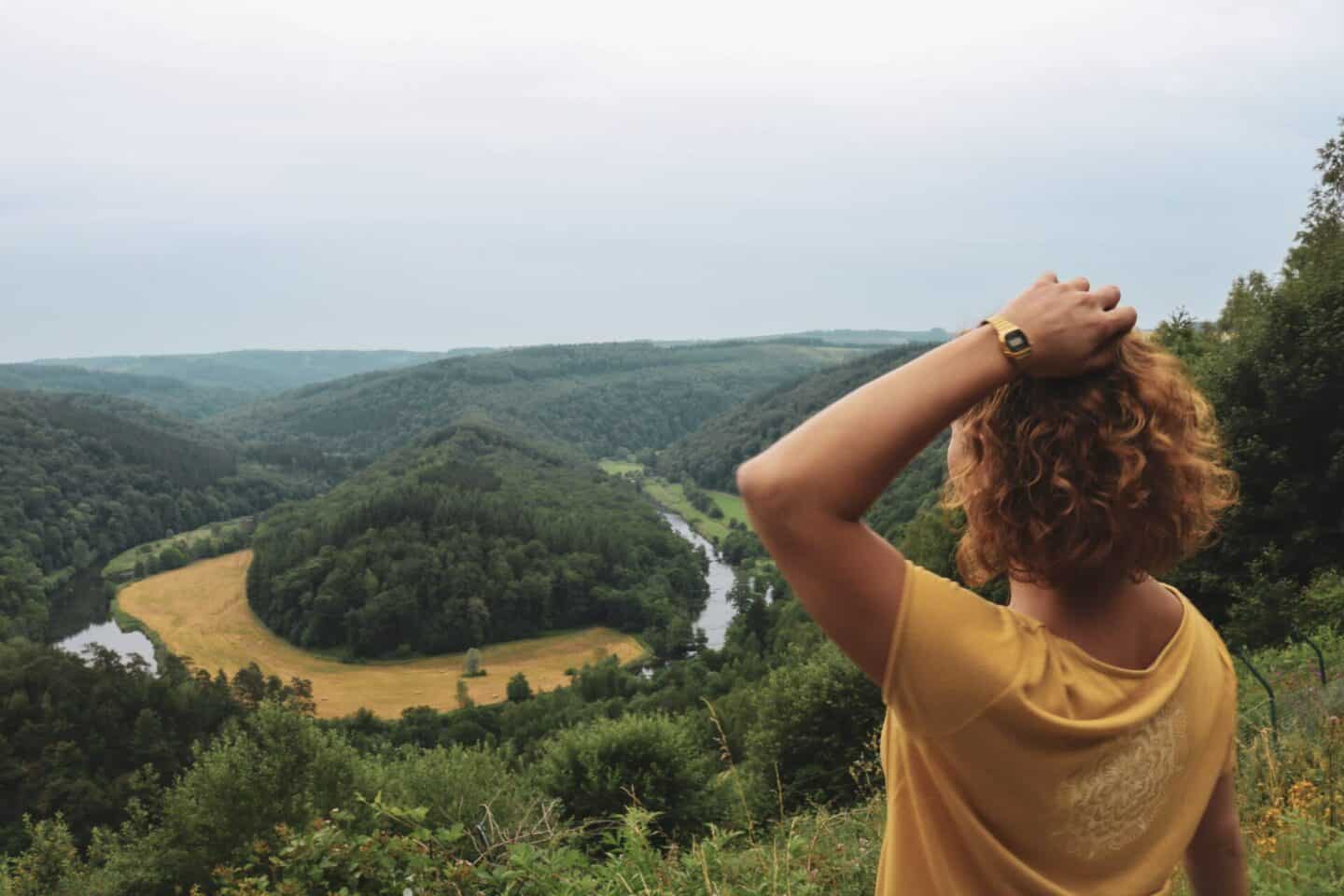 Proof that you don't have to go far to find beauty can also be found in Bouillon. This small city is located in the province Luxembourg, not far from the French border.
Bouillon offers something for everyone. Nature lovers can hike to their heart's content. Water rats can let off steam on the Semois while culture enthusiasts can immerse themselves in the rich history of the city.
The viewpoint 'Le tombeau du géant' is one of the best there is to find in Belgium. You can contemplate the course of the river, surrounded by lush greenery. For the hikers among my readers : there's a 13km long hike that starts there and will lead you along the river.
If you wish to spend the night in Bouillon I highly recommend to stay at Hotel de la Poste. The hotel is situated at the border of the Semois river in the heart of the city. Our room offered an excellent view. And although the hotel is built in 1730 it has been renovated without losing its original romantic atmosphere.
Connecterra – Terhills – National Park Hoge Kempen
Another mind-blowing piece of nature that Belgium has to offer is Connecterra (or Terhills). Terhills claims to deliver the most beautiful panorama of Flanders, and to be honest, I think this might be true. The first time I was there I couldn't even believe this was Belgium.
Terhills is the main gateway to the National Park Hoge Kempen, the only National Park in Belgium. The landscape of 'mountains and lakes' will surprise you and after climbing one of the summits you will be rewarded with spectacular views. Actually these 'mountains' were originated by former coal mining activity.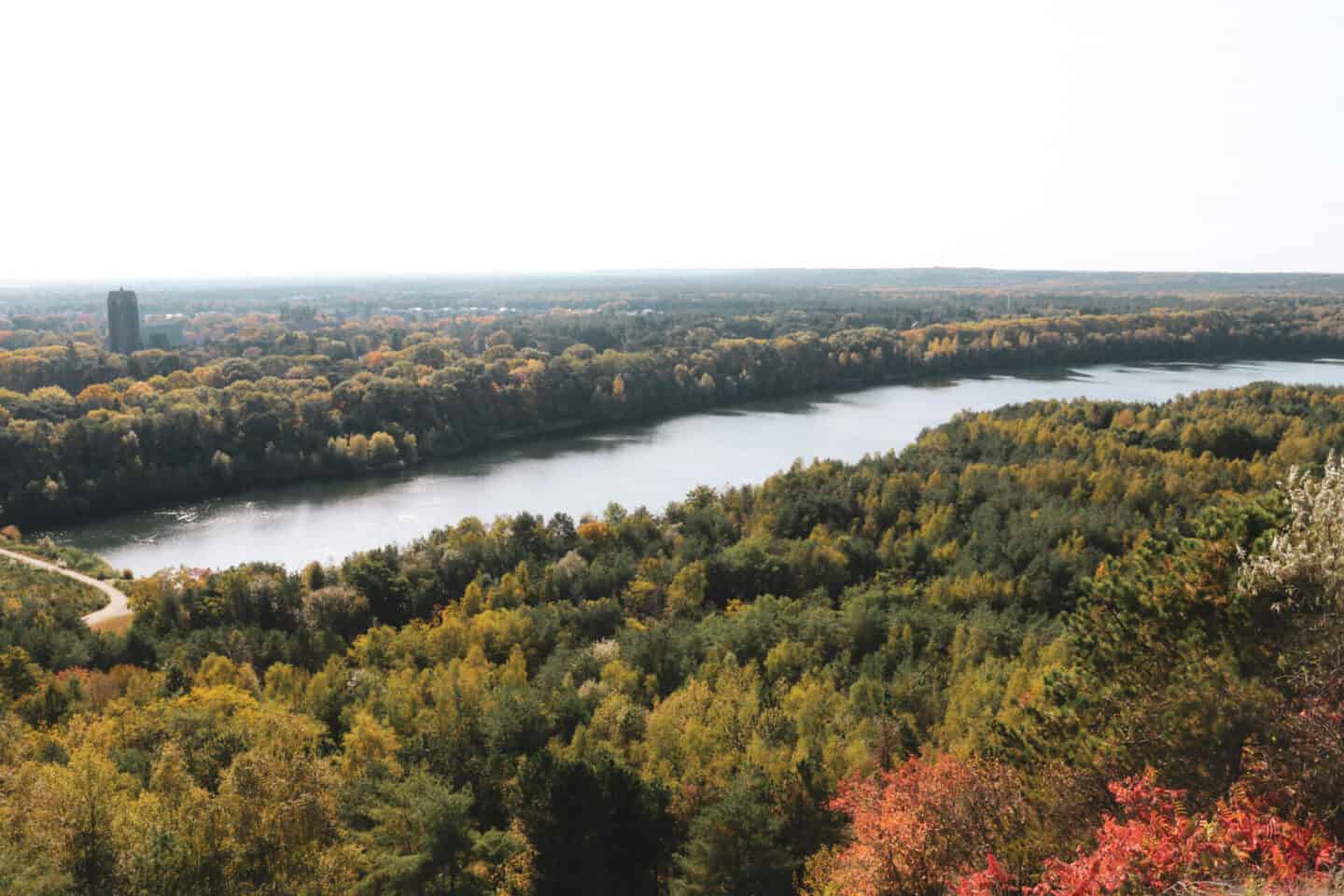 Normally, there are 4 hiking routes (a green, yellow, red and blue one). At the moment only the blue and green hikes are available. But if you want to hike longer there is also a temporary purple route of 13km. You can find more info on the Connecterra Site.
If you want to make this a weekend getaway, you can combine your hike with a treatment at the Elaisa Energetic Wellness. Another idea is to go shopping in Maasmechelen Village, located right next to Terhills.
When I visited the park last summer, I stayed at Warredal. But you can find many other hotels and accommodations nearby.
Valley of the Hoëgne
The last place on my list of beautiful nature in Belgium is something quite different. The Hoëgne river is a spectacular river flowing through the Belgian Ardennes. It finds its source on the highest point of Belgium in the High Fens.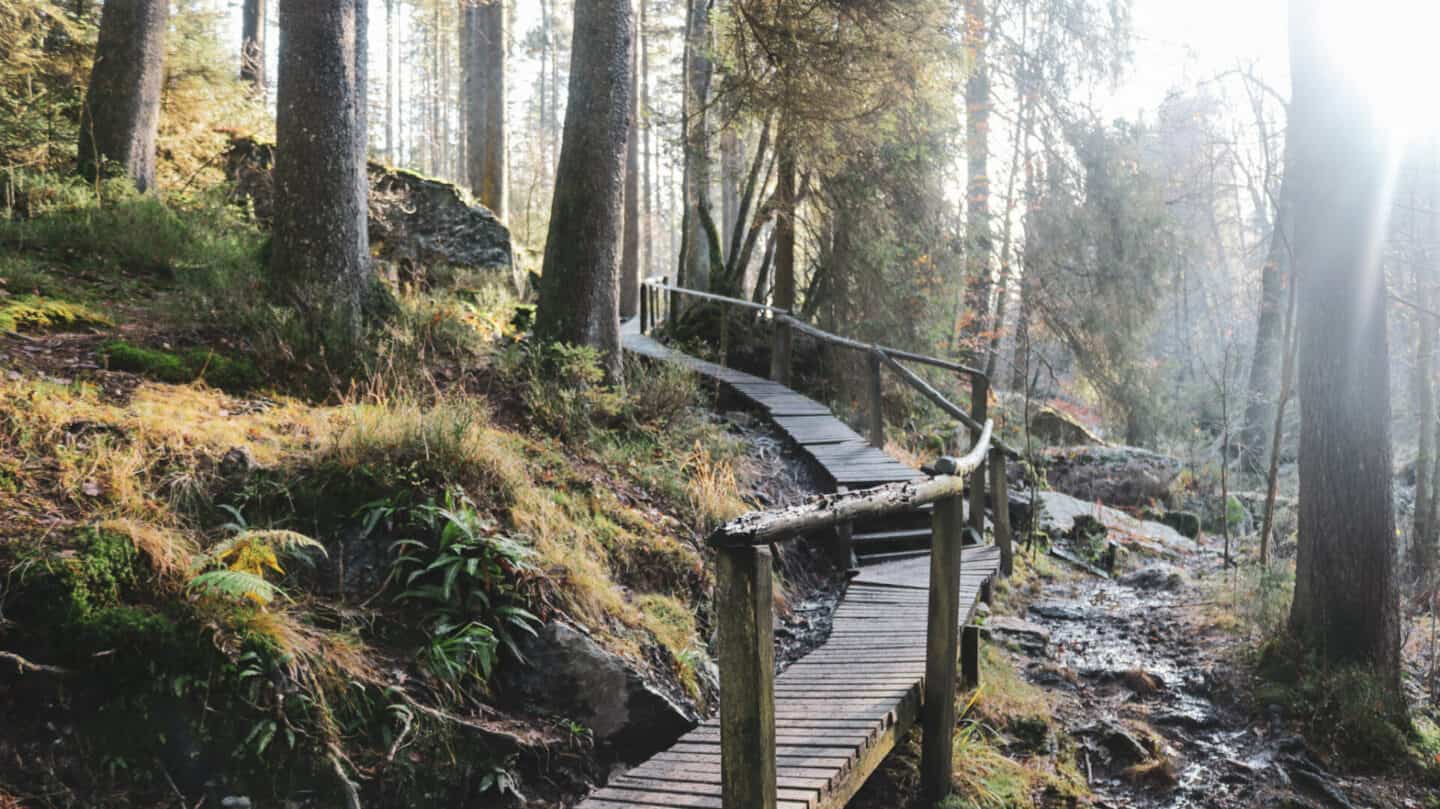 You can go for a wonderful 8km hike (or longer) in the valley of the Hoëgne. The starting point is at de 'Pont de Belleheid' in Jalhay. Fun fact : to get to the parking lot you actually have to drive through the river. But don't worry, the water is only 10cm high, but still an experience. Once you start your hike you will find small idyllic waterfalls, wooden bridges and rock formations. This hike is the perfect alternative for the more popular Ninglinspo hike.
The apartment we stayed at was not the closest possible to the starting point of the hike (it took us around 23min to drive to the parking lot). But I adored it so much that I would like to mention it. You can take a look at it here.
After listing these places I can't wait to go out and discover more natural beauty in Belgium. Therefore I might update this blog post from time to time. If you know some hidden gems yourself, you can always let me know in the comments. Happy exploring!